Outdoor Sculptures
You can continue exploring the arts through the campus at Northwestern Michigan College, thanks to the development of a major collection of outdoor sculptures. These unique, thought-provoking sculptures are located in the immediate Dennos Museum Center area as well as throughout the college's campuses.
Primarily focused on works by noted Michigan sculptors, the collection also includes works by artists of international stature. Learn more about these gifted artists and their outdoor works by clicking on the links below. View or download a PDF version of the map here.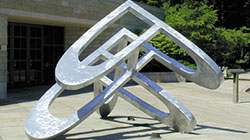 Hanna Stiebel, Equilibrium. 1991, Polished aluminum.
Location:Northwest side of Dennos Museum Center, Main Campus
About the Sculpture
Hanna Stiebel desires that her sculpture relate to the environment, to the architecture and the people around it. Her hope is that people become a part of it, and feel moved aesthetically. Most important, Stiebel invites viewers to walk around Equilibrium to experience the changes and integration of forms that meld into one total composition.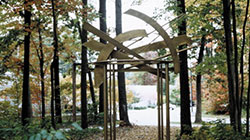 Susanna Linburg, Ruby's Arch. 1999, Bronze.
Location: West side of Dennos Museum Center, Main Campus
About the Sculpture
Ruby's Arch is part of a series originating from a classical source: Selinunte, which was a Greek colony on the southern coast of Sicily. What remains of this destroyed civilization are fragments of architectural elements. Pitted, eroded stone provides a view of a once great society. Linburg's arches intentionally allude to relationships of order and vitality, of stability in a modern world.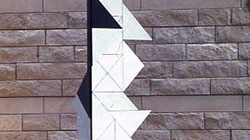 Michael Hall, Trajan. 1982, Painted steel.
Location: Southwest side of Dennos Museum Center, Main Campus
About the Sculpture
For more than 30 years, Michael Hall has been creating his distinctive visualization of sculpture in which fundamentals of Midwestern architecture are embraced in a dialogue with the modernist traditions of constructivism and minimalism. His sculpture Trajan is representative of inaccessible warehouses of cultural values and remnants.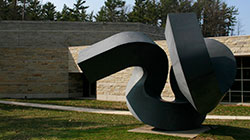 Clement Meadmore, However. 1998, Aluminum.
Location: South side of Dennos Museum Center, Main Campus
About the Sculpture
Clement Meadmore's repeated and characteristic use of geometric but fluid shapes reflects his training as an aeronautical engineer. Like many of Meadmore's mature sculptures, However consists of two basic geometric forms – square and a quarter circle – extended into space. The black, matte finish of the surfaces unifies the overall effect.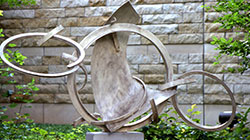 Joseph Wesner, Laocoon. 1984, Stainless steel.
Location:Not currently on view
About the Sculpture
Joseph Wesner cast and welded metal sculptures that are strong, muscular, romantic and poetic. He received his inspiration from a variety of sources, including art history, religion, literature and world travels. The tale of a Trojan priest of Apollo, named Laocoon, is the inspiration behind this stainless steel sculpture.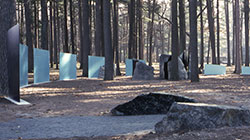 David Barr, Synergy. 1999, Marble, steel, and planet material.
Location:East side of Dennos Museum Center, Main Campus
About the Sculpture
A logarithmic stone spiral path (one of nature's most basic and harmonious form), aligned by roughly-cut quarry stone boulders (polished on one side), is intersected by painted steel plates. This sculpture is governed by mathematical principles or arithmetic progressions, and is synergistically aligned with solar and lunar rotations.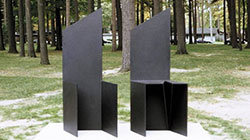 Lois Teicher, Functional Reference #1. 1993, Painted aluminum.
Location: South of Scholars Hall, Main Campus
About the Sculpture
This sculpture continues her exploration of the connecting link in a visual dialogue about tension and resolution in abstract forms. The wedges are an absence of mass. She defines the wedge as a split – a metaphor for the notion of duality, of opposites forming a whole. Her sculpture may shift the nature of the visual dialogue and suggest that superficial similarities may mask differences in content.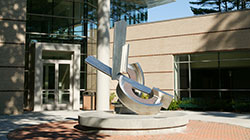 Sally Rogers, Nexus. 2004, Stainless steel and Dakota mahogany granite.
Location: East side of Health and Science Building, Main Campus
About the Sculpture
Rogers said her sculpture on NMC's main campus is "a visual metaphor for the action of connecting or combining the various disciplines of the academic world, to achieve an integrated approach to education."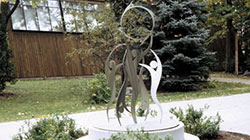 Michael Torre, Spirit Form. 1999, Stainless steel.
Location: South side of the Fine Arts Building, Main Campus
About the Sculpture
Michael Torre has created a lasting, site-integrated design that follows the form of a traditional sculpture. The campus' countless trees inspired his creation of a form that is essentially a Y- shape, patterned into a human form. This shape is one that he has used many times in sculptures as a form and surface design, and also as a representation of an angel or spirit.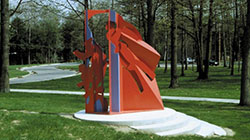 Marcia Wood, Élan Muse. 1990, Painted steel.
Location: Northwest of the Fine Arts Building, Main Campus
About the Sculpture
Wood's 10-foot sculpture intends to serve as a symbol celebrating the creative spirit. The larger element is a single figure representing the spirit or power which inspires imaginative insight basic to any creative endeavor. The smaller element frames a series of figure-fragments which rise and fall. The form of the sculpture is fractured and fragmented, multi-perspective, resistant to being shaped into a single visual image.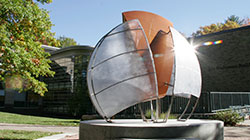 Bob Emser, What You Can Do. 2007, Translucent polycarbonate and painted aluminum.
Location: North of the Tanis Building and west of the Health and Science Building, Main Campus
About the Sculpture
What You Can Do was created and dedicated in honor of volunteers who have served and will serve Northwestern Michigan College. Two translucent polycarbonate curved forms represent the College and the community. Between them is a painted aluminum "V" form representing the volunteers as a convergence of effort and support from the community to the College.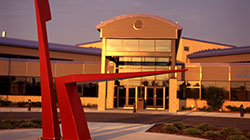 Robert Purvis, Duet. 2001, Painted steel.
Location: At the entrance of the Parsons-Stulen Building, Aero Park Campus
About the sculpture
Imagery for this work is derived from the internal forms of helicopter blades and wings of flight. The two elements that come together to create Duet symbolize the relationship of two individuals - John T. Parsons and Frank L. Stulen - for whom the building is named, and the work they did together to create a new technology that impacted flight and all automated manufacturing.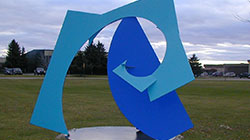 David Barr, Structurist Sculpture #5. 1987, Painted Steel.
Location: Near the Auto Tech Facility, Aero Park Campus
About the sculpture
David Barr said he created Structurist Sculpture #5 by "flinging color and form into space and, paradoxically, ordering it according to nature's structural intimacies. The color/form evolves from static rectangles characteristic of 'human' order into organic spiral relationships that express energy, trauma, change and growth in constructive celebration." He developed this art form by subdividing golden mean rectangles into segments of the logarithmic spiral. Both the positive and negative segments were then constructed into alignments of the spiral that structurally intersect in a playful configuration.