Community Programs
The Dennos Museum Center presents a variety of programs for all ages, seeking to build community, spark conversation, and inspire change. Check out the listings here to find out what's happening.
observing with nasa kiosk programming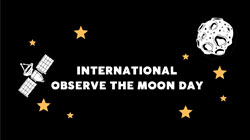 International Observe the Moon Day
Saturday, October 1, 2022
Solar Observation at the Museum — 2:00 - 4:00 PM
Lunar Observation at the NMC Observatory — 8:00 PM
Join the Astronomical Society and NMC's Jerry Dobek, head of the Astronomy and Science Departments, for Solar Observation outside the Dennos Museum. Admission to the museum will be free. While at the museum, visit the Observing With NASA Kiosk in the Discovery Gallery to take, create, and share your own amazing space images, and learn about astro imaging technologies.
In the evening, observe the moon at the NMC Observatory. Public viewing at the Observatory is weather dependent. Visit gtastro.org for updates.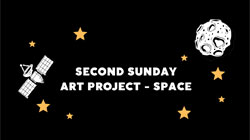 Second Sunday Art Project - Space 
Sunday, October 9, 2022
Make your own space themed artwork from 1:00 - 3:00 PM in the Sculpture Court with some of the museum's docents. While at the museum, work with real data from NASA telescopes and satellites using our Observing With NASA Kiosk in the Discovery Gallery.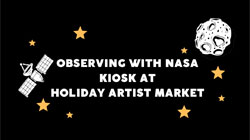 Check out the NASA Kiosk during the Holiday Artist Market
Friday & Saturday, November 4-5, 2022
Admission is free during the Holiday Artist Market. Enjoy the Observing With NASA Kiosk during our open hours.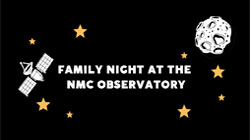 Family Night at the NMC Observatory
Saturday, November 12, 2022 — 8:00 PM
In celebration of the NASA Kiosk at DMC, enjoy a Family Night at the NMC Observatory. This extra special night will include planetary observations. Observatory nights are weather dependent, so be sure to check out gtastro.org for updates!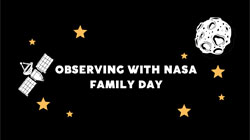 Observing with NASA - Family Day
Saturday, December 3, 2022
Make a Comet Project & Moon Phases — 1:00 - 2:00 PM
Presentation by Jerry Dobek and the Astronomical Society — 2:00 PM
Enjoy free admission to the museum and make your own astronomical images using the Observing With NASA Kiosk in the Discovery Gallery. Learn to make a comet and about moon phases with the help of the Astronomical Society from 1:00 - 2:00PM. Afterwards, head over to Milliken Auditorium to learn more about the Observing With NASA Kiosk and the science behind the imaging used by the Hubble Telescope with a presentation by Jerry Dobek, Head of the Astronomy and Science Departments at Northwestern Michigan College.
About Jerry Dobek
Dr. Jerry Dobek is a professional astrophysicist and faculty instructor at Northwestern Michigan College (NMC). He is the current Sciences Department Head and Director of the Joseph H. Rogers Observatory at NMC.  He has taught astronomy and mathematics for NMC as an adjunct from 1987 until 2002 when he became a full time faculty instructor.  His interests in astronomy and space science began in the early 1960's.  Jerry holds memberships with the RAS, AAS, AAAS, ASP, AAVSO, RASC, IDA, GTAS, IES, SAE and is a lifetime member of Phi Theta Kappa.  His research interests are in variable stars and dark material, which he conducts from his own observatory north of Traverse City, Michigan.  Jerry is also the site coordinator / site director for Project ASTRO and Project Family ASTRO for the Michigan and Upper Wisconsin sites, and serves as the regional Solar System Ambassador for NASA / JPL.  Jerry is a founding member of and the regional representative for the International Dark-Sky Association and has been instrumental in writing lighting ordinances for townships and counties in Michigan as well as several other states.  Jerry designed and assisted in the installation of the fiber optics in the ceiling of the Traverse City State Theater: a true depiction of the night sky over that location for 11 August at 11:00 pm EST. The 'fiber-optical stars' are adjusted to match the visual brightness. His personal interests are astrophotography and writing / playing music on his 6 & 12 string guitars. Jerry's photos of comets Hyakutake and Hale Bopp are part of NASA's archive images of comets.
Public viewing nights at the NMC Observatory are held the first Friday of each month at 8:00 PM. All NMC Observatory public viewing nights are weather dependent. For updates, visit gtastro.org.
---
DRAW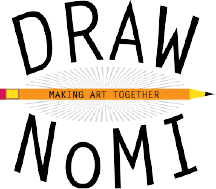 NoMI is a collaborative event that brings together arts organizations from all over Northern Michigan. 
DRAW NoMI is supported by the Linda O'Meara Fund for Arts Education.
---

The Art Of: _ is a series of programs that help connect the visual arts to broader topics in our busy lives, from coffee to education, technology, and even death and dying. Programs have included films, panel discussions, hands-on art, and food and drink tastings. Recordings are available to watch on YouTube. Have an idea for a program? Contact Chelsie Niemi at cniemi@nmc.edu to pitch it.
---
PAST PROGRAMS
Tuesday, July 12th
10:00 AM & 6:00 PM
Northwestern Michigan College astronomy instructor Jerry Dobek will host two in-person and livestreamed events on July 12 for the region to see the first images from NASA's James Webb telescope. Both will be at Milliken Auditorium.
10 AM: First Images release event including Webb's first full-color images and spectroscopic data. Join us on YouTube at: https://www.youtube.com/watch?v=UtZD4kDAq-s
6 PM: Expert panel program to discuss the first image findings and answer audience questions. Join us on YouTube at: https://www.youtube.com/watch?v=UtZD4kDAq-s
The Traverse Area District Library and Sleeping Bear Dunes will also host livestream simulcasts of both events. 
Saturday, June 11 — 11:00 AM
Join us on Saturday, June 11th from 11am-2pm at NMC's Aspen Lot in front of the Dennos Museum for a Pride filled CARNIVAL! This space will host the Unconditional art installation by Roger Amundsen.
Expect vendors providing food as well as slides and a climbing wall! This event will be family friendly and open to the public. The museum will also be open to the public during this event for free. Come for live music and to view the interactive art exhibit.
Community Conversations: Asian and Pacific American Heritage Month
Monday, May 23 — 5:30 PM
May is Asian Pacific American Heritage month. Traverse Area District Library (TADL) invites you, our community, to help recognize the contributions, achievements, and identities of Asian Americans and Pacific Islanders (AAPI) that have helped shape America's development into a richly multicultural society.
Let's get together to enjoy and celebrate regional AAPI food vendors along with an engaging conversation on identity, culture, and experiences in Traverse City!
Join us this evening for light refreshments beginning at 5:30pm, with a panel discussion at 6:00pm. Executive Director and Chief Curator, Craig Hadley will be featured in the evening's panel discussion.
looking for the magic with fleda brown
Monday, May 16 — 10:30 AM
In this workshop, we'll first hear some poems that look for the spark of magic in objects right in front of us. Then we'll explore the museum and choose one object that sends a jolt of excitement through us. We'll study it and take notes. How is it made? Why does it attract us? What parts of the object catch our attention? Then we'll come back together and work on a poem that attempts to capture that moment of excitement on paper.
This event is presented in partnership with Traverse Area District Library and supported by the NEA Big Read, a program of the National Endowment for the Arts in partnership with Arts Midwest.
spring art market
Saturday, May 14 — 11AM - 5PM
Enjoy free admission and a variety of programs throughout the day. Over 20 artists will be selling their own art while the museum is open. Pop into the museum store to shop spring art-inspired gifts as well as beautiful art sculptures and hand painted and woven paper lamps by artist Nathalie Miebach. Live art demonstrations by NMC Fine Art Faculty will also take place throughout the day and will feature table top printing by artist Glenn Wolff and customized ceramics by Zach Tate.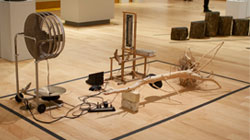 The Art Of: kevin summers
Thursday, May 5 — 6:30 PM
Join guest facilitator and exhibit juror, Vera Grant, for a conversation with Kevin Summers about his Best-In-Show Award-Winning sculpture, Michigan Shoreline, from the 2022 Northwest Michigan Regional Juried Exhibition. Grant and the artist will discuss technical aspects of the work, along with process, intention, and the role that artists play in reflecting our experiences and environments. A portion of the program will allow for attendee questions and comments as well.

How Do They Do That? Behind the Scenes at the Dennos Museum Center
Friday, April 22 — 10:00 AM
Registration is now full.
What does it take for a museum to create polished museum exhibitions? How does a museum install large structures, take care of taxidermied polar bears, light exhibitions, and position artwork for the best visitor experience? Join Craig Hadley, Executive Director at the Dennos Museum Center, for a guided tour that is guaranteed to leave you thinking about museums in an entirely new way! Bring your questions and some comfortable walking shoes.
The Art of Cross Pollination: A Visual Reading & Writing Workshop to Celebrate National Poetry Month
Thursday, April 7 — 6:30 PM


Join us as we explore the fecund intersections between poetry and visual art with interdisciplinary artist Jen Sperry Steinorth. A professor at the University of Michigan in Ann Arbor and Northwestern Michigan College, Steinorth's books include Her Read, A Graphic Poem (2021), A Wake with Nine Shades (2019) and Forking the Swift (2010). She has received grants from the Vermont Studio Center, the Sewanee Writers Conference, Bear River Writers Conference, and the MFA for Writers at Warren Wilson College. Her poetry is informed by her work as both a classical ballet dancer and later an architectural designer. Her visual art is currently on display at the Dennos as part of the 2022 Northwest Michigan Regional Juried Exhibition. This event is presented in partnership with Traverse Area District Library and supported by the NEA Big Read, a program of the National Endowment for the Arts in partnership with Arts Midwest.
The evening will include a brief reading from Steinorth's visual poetry book, Her Read, A Graphic Poem and a generative writing workshop. Not only will participants draw inspiration from art in the Dennos galleries, but we'll explore writing exercises that apply techniques used by visual artists to sharpen our sight, loosen our minds and let linguistic surprises flow. Beginning and experienced writers alike will leave with a host of exercises they can integrate into their creative practice.

an afternoon with del michel
Sunday, March 6 — 2:00 PM
Join us for an exciting opportunity to meet artist Del Michel and see his exhibition on view through April 3rd in the Milliken Cases at the Dennos. This exhibition represents a variety of his work from the past three decades and will be the first time his sculptures will be on view at the museum. Del Michel's lyrical paintings, assemblages, and sculptures are reflective of his many travels, interest in ancient ruins and cultures, and are a celebration of the natural world with their vibrant colors and rich textures.

the art of: nathalie miebach
Wednesday, February 23 —7:00 PM

Join Deputy Director, Jason Dake, and artist Nathalie Miebach for a conversation about her recent work in the exhibition, Stay Healthy and Strong, now on view through May 29. Miebach's work explores the human response related to extreme weather patterns and the Covid-19 pandemic through the translation of scientific data into woven sculptures, installations and musical scores. This exhibition includes works focused on Covid-19 data and natural disasters that have taken place before and during the pandemic.
Following a brief virtual tour of the exhibit and conversation with Nathalie, attendees will be able to ask questions.
Registration tickets are pay what you can, $0 - $15. Registration will close an hour before the event. After your ticket is reserved, a member of Dennos Staff will email you the details to join us on Zoom. A reminder email will go out the day of the event to all registrants 30 minutes prior to the start time.
Embrace the dream free day
Monday, January 17th - During Open Hours
On January 17th NMC is kicking off a series of programs to celebrate King's legacy called Embrace the Dream. Admission to the museum will be free January 17th for the opening of the exhibition Color & Shape: Black Artists from the Dennos Collection. A selection of videos about MLK will play continuously during open hours in the Dutmers theatre from 11AM - 4PM.
Starting on January 17th, a drive for the NMC Food Pantry will also take place. The museum will have a bin for people to donate items. Bring an item for the NMC Food Pantry, and get a free admission to the museum. Donation items may be of non-perishable food items and toiletries.
In the evening at 7PM MLK: A Musical Celebration will be livestreamed in Milliken Auditorium. You can also watch from home here.
saving stuff: preserving the past for future generations
Thursday, November 4, 2021 — 9:30 a.m.

All of us have family treasures that we have inherited or collected over the years. In this live workshop, learn how museum professionals take care of a wide range of artworks and objects, from sculptures and paintings to photographs and precious news clippings. Discuss the different ways in which objects deteriorate, tips for mitigating loss, and what you can do to protect your precious belongings. Part lecture, part workshop, and part behind-the-scenes at the Dennos Museum Center. Craig Hadley, Executive Director and Chief Curator at the Museum, will pique the interest of budding historians, preservationists, art historians - and anyone interested in learning something new. Bring your questions! Class meets at Dennos Museum Center; admission is included with your course registration.
book discussion at the dennos: but is it art?
Thursday, October 14, 2021 — 9:30 a.m.

Have you ever found yourself face to face with a new work of art asking, "how is this art?" If so, you're certainly not alone! Join Craig Hadley, Executive Director and Chief Curator of the Dennos Museum Center for a guided tour and discussion that seeks to answer that very question. Perfect for those who are curious about the history of art, visual expression, and the ever-changing definition of art. Please obtain a copy of our book and complete the reading in advance: But Is It Art?: An Introduction to Art Theory by Cynthia Freeland. 2002, Oxford University Press (ISBN: 0192853678). Freeland's book is a very accessible yet thought provoking read--perfect for those with little or no formal art background. Class meets at Dennos Museum Center; admission is included with your course registration.
poetry night with teresa scollon
Wednesday, October 13, 2021 — 6:30 p.m
Join us for an evening of reading, writing, and discussing poetry, sponsored by the NEA Big Read and Traverse Area District Library. During the program, you will hear poetry from local writer Teresa Scollon and join her in writing poetry in response to works in the Museum's galleries. Scollon is a poet, NEA Fellow, and instructor at the Writers Studio at Career Tech in Traverse City. Her new collection, Trees and Other Creatures, is just out from Alice Greene & Co. Additional selected poems will be read from Joy Harjo's An American Sunrise as part of the NEA Big Read program. Harjo is an internationally renowned performer and writer of the Muscogee (Creek) Nation, and first Native American to be selected as the Poet Laureate of the United States.
This event is free with no registration required.
Meet & Greet with Rufus Snoddy
Friday, August 13, 2021 — 6:00 - 7:30 p.m.
$10 for non-members / Free for members
Limit to 25 people total
Join artist Rufus Snoddy for an in-depth view and discussion of his latest exhibition, Disappearing Man on view through August 15. This is a limited engagement event to provide for a unique opportunity to talk directly with the artist in front of his work. He will also be on-site during the August 15 closing reception.
VOICES & VOTES: In Conversation
Wednesday, July 28, 2021 — 2:30 p.m.
Join Deputy Director, Jason Dake, and special guests for this conversation about the Smithsonian's Museum on Main Street exhibition, Voices and Votes: Democracy in America . The exhibition explores the action, reaction, vision, and revision that democracy demands as Americans continue to question how to shape the country. From the revolution and suffrage, to civil rights and casting ballots, everyone in every community is part of this ever-evolving story—the story of democracy in America.

Guest panelists include Thomas Henthorn, PhD, the Wyatt Endowed Professor of Public History at the University of Michigan – Flint, and Benjamin Marentette, City Clerk of Traverse City. Dr. Henthorn will present a brief lecture about key moments in the expansion of the voting franchise in America. Both guests will join Jason Dake for a conversation around the exhibition's themes of democracy for all and voting rights. Attendees will be able to ask questions along the way during this interactive virtual program.
The art of: russell prather
Thursday, June 24, 2021 — 6:30 p.m. ET
Join us online for a live conversation with artist Russell Prather. We will discuss Prather's exhibition installed in the galleries through August 15, along with the artist's background and inspirations. Attendees will have the chance to ask questions via Zoom or Facebook. You can view the exhibition, And the Heart is Pleased by One Thing After Another , during open hours, Wednesday-Sunday, 11:00 a.m. to 4:00 p.m.
Prather studied philosophy and animation at the University of British Columbia, and literature and writing at the University of Washington. A self-taught artist, his creative practice has been influenced particularly by the illuminated books of eighteenth-century artist and poet William Blake. Prather's work has been exhibited at the Muskegon Museum of Art, Museum of Northwest Art, the Grand Rapids Art Museum, the Kalamazoo Institute of Arts, Truman State University in Missouri, Finlandia University, the Duluth Art Institute, The Gerald R. Ford Presidential Museum, Michigan Technological University, the Chicago
Art Department Gallery and Stephen F. Austin State University in Texas. He has shown internationally at Yorck Studios in Berlin, Venice International University, John Moores University in Liverpool, and Hong Kong Baptist University. He has solo shows upcoming at Hatch Art in Detroit and Caza Sikes Gallery in Cincinnati. He teaches British literary and visual culture, and modern art and film, at Northern Michigan University in Marquette.
In Conversation with Keith Ekstam
Thursday, May 27, 2021 — 10:30 a.m. ET
Join Zach Tate, Ceramics Instructor for the NMC Art Department for a conversation with fellow ceramic artist and colleague Keith Ekstam about his exhibition at the museum. The program will include an illustrated presentation by Ekstam about his work and influences, with questions taken from the audience as well. Enjoy the conversation on Zoom following the link below, or watch the simulcast on our Facebook Page.
the art of: joshua harker
Wednesday, April 21, 2021 — 10:30 a.m. ET
Watch on IGTV @dennosmuseumcenter
Join the conversation on Instagram Live with Deputy Director Jason Dake as he talks to Joshua Harker about his work in the exhibition, Blow Up II, now on view through May 16. We'll get to know a bit about Harker's background and process, as well as discussing how he created a giant inflatable skull for the exhibition.
Joshua Harker (b.1970) is an American artist recognized for his adaptation and incorporation of modern design and manufacturing technologies with traditional methods and materials. This has included 3d printing, video projection mapping, CAD design, digital sculpture, 3d scanning, and biometrics. In addition to static and kinetic works, he bridges 2nd and 3rd dimensions via projection mapping of images and animation onto sculptures in large scale live installations.
In addition to exhibiting globally in galleries and museums, he produced the #1 most funded Sculpture project in Kickstarter history (2011-2015). Joshua's experimentation in the presentation of his art through social media and the internet has garnered him international recognition and acclaim. His work is among thousands of collections and has appeared in countless publications and press worldwide.
Image: Josh Harker, Crania Geodesica: Palloncino Anatomica, 2019, painted vinyl fabric, electric fan,111 x 96 x 153 inches. Installation detail.
Artists in Conversation: John Sauvé interviews Michael D. Hall
Sunday, April 25, 2021 — 1:00 p.m. ET
Michigan Legacy Art Park and the Dennos Museum Center co-host Artists in Conversation for International Sculpture Day 2021. Join Detroit area sculptor John Sauvé as he interviews Michael D. Hall about his career, his works and his ideas. Viewers can ask questions during this free online event, which will include montages of Hall's work -- including the newly installed Waltz Stele sculpture at Michigan Legacy Art Park in Thompsonville, Michigan.
the art of: dex r. Jones
March 4, 2021 — 10:30 a.m. EST
Join Deputy Director of Museum Programs & Learning Jason Dake for an in-depth conversation with photographer Dex R. Jones about his exhibition. The program will include a brief tour of the gallery, a conversation between Dake and Jones, and an opportunity to ask the artist questions about his work.