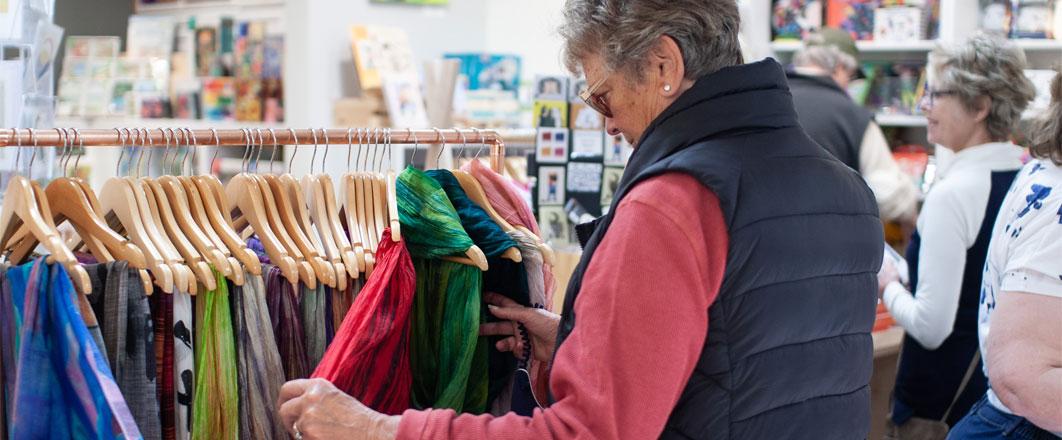 The Museum Store offers items related to current Museum exhibitions, gift items, art books, children's toys that relate to arts and science, jewelry, posters, note cards, Museum logo-ware and fine arts and crafts from local, state, and international artists. Profits from sales in the Museum Store benefit Museum exhibitions and educational programs.
In addition, the Dennos Museum Store is best known for its large selection of Canadian Inuit prints, carvings and gifts including books, cards and clothing.
Members receive 10% off all purchases. We accept Visa, MasterCard, Discover and American Express.
Contact The Museum Store
HOURS:
TUE — SUN
11 AM — 4 PM
CLOSED MONDAY 
GENERAL CONTACT INFORMATION:
(231) 995-1586
museumstore@nmc.edu
MANAGEMENT:
Nicole Zeiler
Museum Store Manager
(231) 995-1587
nzeiler@nmc.edu
Consignment Policy
The Dennos Museum Center welcomes the opportunity to work with local artists and crafts persons to create merchandising connections to our exhibitions and collections. In an effort to comply with Museum Store Association and American Alliance of Museums best practices, the Dennos Museum Store shall adhere to the following consignment policy:
Selection
The Dennos Museum Store shall evaluate offers of consignment based on the following criteria:
Product quality
Thematic connections to exhibitions, programs, and/or collections
Local/regional connections
Conflicts of Interest
In an effort to comply with museum best practice and accreditation standards from the American Alliance of Museums, it shall be the policy of the Dennos Museum Store to not accept consignment of artwork or objects closely related to the Dennos Museum Center's collections. For example, the Dennos Museum Store shall not accept consignments of Inuit artwork or objects when, in fact, the Dennos Museum Center collects, curates, and accepts gifts of like materials for its collections.
Shipping and Insurance
The artist is responsible for bearing all shipping costs to the Dennos Museum Store and insurance during transit.
The Museum Store shall assume responsibility for the cost of returning artwork to the artist if it does not sell. If the artist asks for artwork to be removed early and returned, the artist shall assume the full cost of return packing and shipping.
The Dennos Museum Store shall insure all artwork while on-site and displayed in the Dennos Museum Store. In the event of theft or damage, the artist shall be paid for the artwork minus a 40% gallery commission. Exceptions to this policy include damage to artwork(s) caused by faulty craftsmanship and/or inherent vice. In this event, the artist shall assume full responsibility for loss.
Commission
The Dennos Museum Store shall receive a 40% commission on all artworks sold.
Duration
Each artist agrees to consign artwork to the Dennos Museum Store for a minimum of 90 days or an agreed upon term length as related to exhibit or event. Artwork will not be removed from the Dennos Museum Store by artists or their agents without the express written permission of the Dennos Museum Store Manager. A minimum of 72 hours notice is required to process return requests.
Marketing
The Dennos Museum Store maintains the right to obtain and use images of all items contained with the Museum Store's premise for the purpose of advertising and promotions.
Inventory
Consignment inventory sheets shall be created by the artist with each new delivery of work or a typed list submitted which includes artist contact information, description of how works are made, list of inventory and quantities, and sales price.
The Dennos Museum Store staff shall receive and return all artwork with a countersigned consignment inventory sheet. The Dennos Museum Store reserves the right to reject any pieces offered into inventory.
Evaluation
Each artist and their work shall be evaluated at the end of 12 months or at the end of the contract term. Artists need not bring in additional artwork for this process. Furthermore, consignment sales shall be reviewed by staff every three months to evaluate progress.
Payment
Artists will receive payment no earlier than 30 days after the sale of their artwork. The Dennos Museum Store shall maintain a 10-day return policy. In the event that a consigned artwork sells for less than $15, the Dennos Museum Store reserves the right to hold payment until the next month to avoid small sums. Checks are issued by Northwestern Michigan College and shall be mailed in envelopes bearing the College's Business Office address.