Support Today. Sustain Tomorrow.
Membership is at the very heart of the Dennos Museum Center. Your critical membership dollars directly fund programming, operations, collections care, and--most importantly--enables us to serve over 60,000 visitors each and every year. Many of our visitors receive free or reduced admission through K-12 scholarships, the NEA Blue Star Museums program for veterans, and IMLS Museums for All.
Becoming a member is about to be even better! The Dennos will be raising admission prices starting July 1, 2023 to match other similar museums and institutions across the state. DMC has not raised admission in over 15 years. Membership rates and tiers will remain unchanged, making membership benefits even more valuable at the museum! Learn more about why the Dennos is raising admission prices here.
Join Or Renew Today:
Benefits
All Dennos Museum Center membership levels include:
Free admission to the Dennos Museum Center (excludes ticketed events/exhibits)
10% discounts at the Museum Store
Discounts on DMC concerts and event tickets
Invitations to exclusive member-only events
Digital Membership Cards
Members at the $100 Trailblazer level or above receive the added benefit of reciprocal membership to NARM and ROAM and now ASTC.
This benefit provides FREE admission to over 2,000 museums nationwide, while every dollar you contribute stays at the Dennos and strengthens your local museum.
North American Reciprocal Museum Association Reciprocal Organization of Associated Museums Association of Science and Technology Centers
digital membership cards
In partnership with Cuseum, we launched digital membership cards in March 2022 which can be downloaded and saved to your smartphone. Your digital membership card is unique to your membership and displays your name, membership level, expiration date, your benefits, and other museum information on the back. It's exactly the same as your current card, but much more eco-friendly and more difficult to lose! It will update automatically when your membership information changes.
Smithsonian affiliate membership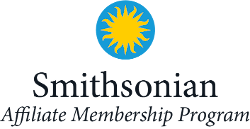 The Smithsonian Membership upgrade is available as an addition to any Dennos membership level for an additional $25. The following benefits are available to Smithsonian Affiliate Members:
A one-year subscription to Smithsonian Magazine
A 10% discount on all Smithsonian Folkways Recordings
Free admission to the Smithsonian's Cooper-Hewitt, National Design Museum in New York, NY
A personalized Smithsonian membership card
A 10% discount on all IMAX tickets at the Smithsonian
Online benefits from the Smithsonian with insider access to the Smithsonian and special opportunities
Member Discount on The Great Courses
Reciprocal Admission Benefits at participating Smithsonian Affiliates*
Member Benefits at participating Smithsonian Affiliates include admission for two, member discounts on purchases made on the premises for concert and lecture tickets, and discounts in gift stores. Not all participating organizations offer all benefits.
Upon the receipt of our members' names and payment, Smithsonian Magazine will generate member magazine subscriptions and membership cards in 4–6 weeks. Members will also be mailed Smithsonian Journeys Travel Adventure study tour information and the Smithsonian retail catalogue.
Membership Donations
Thank you for considering the DMC as a donor for your event. All requests for donations must follow the process outlined below.
Requests must be submitted at least four weeks before your event start date.
Align with DMC mission and NMC values.
Donations to silent auctions, fundraisers, and galas must directly benefit a non-profit organization or the community in which the organization is based. DMC does not donate to individuals, or to organizations outside our region.
Avoid direct competition with DMC programs and events.
Subject to availability, budget, etc.
Acknowledge the DMC in program materials where appropriate. DMC staff may request copies of materials which include acknowledgement.
Failure to acknowledge DMC appropriately may result in future suspension of membership donations.
The Audience Engagement Manager has final authority on all membership donation requests based on available resources and DMC mission alignment.