Volunteers & Interns
Our Volunteer Program Is Temporarily Suspended At This Time.
The Dennos Museum Center has a strong tradition of volunteers and museum staff working side by side. Over 100 volunteers work in nearly every department of the Museum, providing services to visitors and assisting professional staff behind the scenes with exhibits, operations, and more. Volunteering is a great way to meet new people, learn more about visual and performing art, and support the Museum. See details below for more information.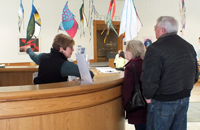 Visitor Information Desk
These volunteers answer visitor questions, give directions, and provide information about the programs, events, and activities of the Dennos Museum Center.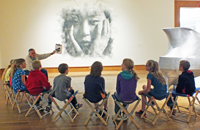 Docents
Docents are trained guides who provide tours and other welcoming and educational services to school children, families and adults. Volunteers in this area are asked to make a two-year commitment that includes an on-going training program which meets regularly during the months of September through early June.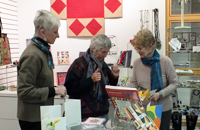 Museum Store
Museum Store volunteers assist in all aspects of retail operation. Customer service, store merchandising and cleaning, and receiving and pricing new merchandise are some of the duties for this corps of volunteers.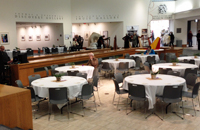 Hospitality
Hospitality volunteers assist with Dennos concerts, exhibition opening receptions, and programs. Taking inventory of reception supplies, setting up and decorating reception areas, serving food and beverages, and participating in clean-up are all part of the Hospitality Committee's function.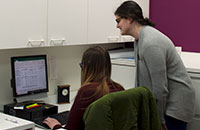 Internship
Interns work side-by-side with professional staff at the Dennos to gain real world museum experience. Opportunities are available year round for students of all academic backgrounds, ranging from high school "job shadowing" opportunities to in-depth experiences for NMC students, undergrads, and graduate students. Our staff works closely with interns to match their career interests with available projects in administration, exhibits, collections, education, store management, and more. Most internships are unpaid, but limited funding may be available depending upon several factors.