Music That Will Move You
Welcome to the Dennos Museum Center and Milliken Auditorium! Your support of the arts in our community - through your ticket purchases, your attendance, and sharing your experience with others - remains as important as ever as we return to the blues, folk, jazz, and world music concerts we all love.
night of
On the night of the concert, doors will open one hour before showtime. During that time, the galleries will be open for ticket buyers to view our current exhibitions, and shop the museum store for waters and light snacks. View our current exhibitions and upcoming exhibitions to learn more about what will be on view before each performance you attend. 
2023 Concerts
Jordan Hamilton
Saturday, October 21st — 7:00 PM
Tickets: $20 - $30
Cellist and vocalist Jordan Hamilton is a mix of mastery and maverick musicality; hip-hop influenced, rhythmically layered, melodically robust. Avant garde, folk-soul music, a key to navigate space, time, and change, gracefully, for those who use it. Driven by diversity, drawn to the cello's tone, cosmic strings calling souls home.
Learn more at http://www.jordanhamiltonmusic.com/.
Saturday, November 11th — 7:00 PM
Tickets: $25 - $35
One of the Midwest's most prolific and passionate songwriters, Erlewine has a gift for writing songs of substance that feel both fresh and soulfully familiar. Her ability to emotionally engage with an audience has earned her a dedicated following far beyond her Michigan roots. She shows us her heartbreak, but she also shows us her empowered and emboldened spirit. In her quest to find her most authentic self, Erlewine gifts each listener with a powerful, emotional experience that immediately connects us.
Learn more at https://www.mayerlewine.com/.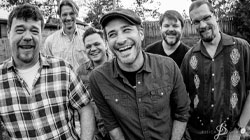 Thursday, January 11th — 7:00 PM
Tickets: $25 - $35

Formed out of love for traditional American Folk & Blues music, Steppin' In It has been playing shows and packing dance floors for over 20 years. No stranger to Northern Michigan, the band has played the Traverse Area countless times together yet they're making their Dennos debut January 11th!
Learn more about Steppin' In It at: https://www.allmusic.com/artist/steppin-in-it-mn0000430891#biography
---
Our performance seasons are supported in part by the Osterlin Performance Endowment, the Robert T. and Ruth Haidt Hughes Family Trust, the Michigan Council of Arts and Cultural Affairs, Art Bridges, Arts Midwest and the National Endowment for the Arts.