The Dennos Museum Center presents several films during the year, sourced from the Smithsonian Channel. Events are free of charge. Films are generally screened with captions. Milliken Auditorium features a T-coil loop for those with hearing impairments. Additional arrangements for a sign language interpreter can be made by contacting Jason Dake at (231)995-1029 or jdake@nmc.edu.
---
Upcoming Smithsonian Channel Films
Wednesday, August 17th
1:00 & 2:30 pm
Over the millennia, human activities have greatly affected the Earth's composition, changing it so much that scientists have defined it as a new geological era: the Anthropocene, or the human epoch. But just as humankind has the power to change the world's ecosystems, we also have the ability to alter our impact. This three-part series reveals how we have transformed the planet through the lens of land, air, and water, then details what we can do—and are doing—to change the path of nature's future.
Limit of 30 people per screening, please limit groups to 10 people. Register here.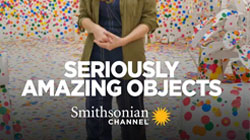 Wednesday, September 21st
1:00 & 2:30 pm
Join host Xavier Carnegie as he gives select Smithsonian visitors a one-of-a-kind opportunity to interact with artifacts and animals that represent amazing stories of survival. One guest will learn how the idea of camouflage was developed. Another gets an up-close look at the kite that helped America win World War II. And finally, one guest enters the Smithsonian Conservation Biology Institute, where scientists are racing to save cheetahs from the brink of extinction. 
Limit of 30 people per screening, please limit groups to 10 people. Register here. 
Wednesday, October 12th
1:00 & 2:30 pm
North of the Himalayas and three miles above sea level stretches a land barely glimpsed by the outside world: the Tibetan Plateau. Here, packs of wolves, herds of chiru antelope, and small families of pika struggle to survive and raise their young in one of the harshest environments on Earth. Spend a year in this land of extremes and follow its creatures, from the top of the food chain to the bottom, as they embark on dangerous migrations, dodge diving predators, and adapt to the plateau's thin air, impossible terrain, and punishing weather.
Limit of 30 people per screening, please limit groups to 10 people. Register here. 

Wednesday, November 16th
1:00 & 2:30 pm
Witness the final moments of the Arctic Rose, and discover why the trawler sank so quickly into the Bering Sea.
Limit of 30 people per screening, please limit groups to 10 people. Register here. 
---
Past Films
The Lost Tapes: Tornado Super Outbreak
Wednesday, July 20th
1:00 pm & 2:30 pm

Witness how America's South and Midwest were ravaged by 148 twisters in just 18 hours.
Life Of Earth: Age Of Humans
Wednesday, June 22nd
1:00 pm & 2:30 pm

Since humankind first went into space, we've had the ability to look down on the marvels of our civilization. Now, thanks to space technology, we are also able to look at our past to better understand how the dynamic life on our planet has influenced the rise of our species. Join us as we travel back 300,000 years to Africa's equatorial zone where Homo sapiens first walked Earth. See how humans' ability to harness the power of agriculture and fossil fuels transformed not just our population, but the entire ecosystem.
Walk Against Fear: James Meredith
Wednesday, January 19
1:00 pm & 2:30 pm

In the mid-20th century, white supremacy ran rampant in America's South, and nowhere was segregation more brutally enforced than in Mississippi. From this context emerged one man who risked his life to fight for his beliefs. This is the story of James Meredith, a largely forgotten hero who single-handedly instigated some of the greatest victories of the Civil Rights Movement. Interviews with Meredith and his family, plus rarely seen or heard footage featuring MLK, JFK, Medgar Evers, and others tell the tale of this American original.
The Green Book: Guide To Freedom
Wednesday, February 2
1:00 pm & 2:30 pm

In the 1930s, a black postal carrier from Harlem named Victor Green published a book that was part travel guide and part survival guide. It was called The Negro Motorist Green Book, and it helped African-Americans navigate safe passage across America well into the 1960s. Explore some of the segregated nation's safe havens and notorious "sundown towns" and witness stories of struggle and indignity as well as opportunity and triumph.
Black In Space: Breaking The Color Barrier
Wednesday, February 16
1:00 pm & 2:30 pm

America's experiences during the Civil Rights Movement and the Space Race are well documented. However, few know about the moment these two worlds collided, when the White House and NASA scrambled to put the first black astronaut into orbit. This is the untold story of the decades-long battle between the U.S. and the Soviet Union to be the first superpower to bring diversity to the skies, told by the black astronauts and their families, who were part of this little-known chapter of the Cold War.


America In Color: Alaska
Wednesday, March 16
1:00 pm & 2:30 pm

From the Klondike Gold Rush to the Japanese invasion of Attu to statehood in 1959, witness the making of modern Alaska.
America's National Parks At 100
Wednesday, April 20
1:00 pm & 2:30 pm

Take a tour through iconic Yellowstone and the Grand Canyon and discover smaller, hidden treasures throughout the country as we explore the agency's evolution over the last century.
When Tariq Ali Met Malcolm X
Wednesday, May 18
1:00 pm & 2:30 pm

One was a Black human rights leader who had achieved global notoriety. The other was a young Marxist Oxford student from Pakistan looking to bring radical change to the British establishment. When they met in December 1964, Malcolm X's life of activism was about to come to a tragic end, but Tariq Ali's journey was just beginning. This is the story of a brief but impactful friendship that, 50 years later, still ripples through England today, told by Ali, civil rights historians, and rarely seen footage of Malcolm X's overseas visit.