The Dennos Museum Center presents several films during the year, sourced from the Smithsonian Channel. Films are free of charge, but do require registration. Films are generally screened with captions. Milliken Auditorium features a T-coil loop for those with hearing impairments. Additional arrangements for a sign language interpreter can be made by contacting Chelsie Niemi at cniemi@nmc.edu or by calling 231-995-1573.
---
Upcoming Smithsonian Channel Films
Wednesday, October 12th
1:00 & 2:30 PM
North of the Himalayas and three miles above sea level stretches a land barely glimpsed by the outside world: the Tibetan Plateau. Here, packs of wolves, herds of chiru antelope, and small families of pika struggle to survive and raise their young in one of the harshest environments on Earth. Spend a year in this land of extremes and follow its creatures, from the top of the food chain to the bottom, as they embark on dangerous migrations, dodge diving predators, and adapt to the plateau's thin air, impossible terrain, and punishing weather.
Limit of 30 people per screening, please limit groups to 10 people. Register here. 

Wednesday, November 16th
1:00 & 2:30 PM
Witness the final moments of the Arctic Rose, and discover why the trawler sank so quickly into the Bering Sea.
Limit of 30 people per screening, please limit groups to 10 people. Register here. 
---
evening films
Thursday, October 6th — 7:00 PM
Join us for a free screening of the Color of Care in Milliken Auditorium. Before the show, enjoy some light refreshments. A discussion will be held with a panel of local experts afterward featuring Dr. Cyrus Ghaemi, Chief Clinical Officer, Traverse Health Clinic, Toni Leaf-Odette, Senior Community Health Coordinator, Munson Healthcare, Tamella Livengood, Director of Nursing Programs, Northwestern Michigan College, and Dr. Joe Santangelo, Chief Quality and Safety Officer, Munson Healthcare. 
Let us know you're coming. Please register for your free ticket here. 
About the Film
The Color of Care chronicles how people of color suffer from systemically substandard healthcare. COVID-19 exposed what they have long understood and lived: they do not receive the same level of care. Produced by Ms. Winfrey's Harpo Productions and directed by Oscar-nominated and Emmy-winning director Yance Ford, the film traces the origins of racial health disparities to practices that began during slavery and continue today. Using moving personal testimony, expert interviews, and disturbing data the film reveals the impact of racism on health, serving as an urgent warning of what must be done to save lives.
---
PAST FILMS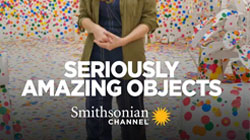 seriously amazing objects: survivors
Wednesday, September 21st

Join host Xavier Carnegie as he gives select Smithsonian visitors a one-of-a-kind opportunity to interact with artifacts and animals that represent amazing stories of survival. One guest will learn how the idea of camouflage was developed. Another gets an up-close look at the kite that helped America win World War II. And finally, one guest enters the Smithsonian Conservation Biology Institute, where scientists are racing to save cheetahs from the brink of extinction.