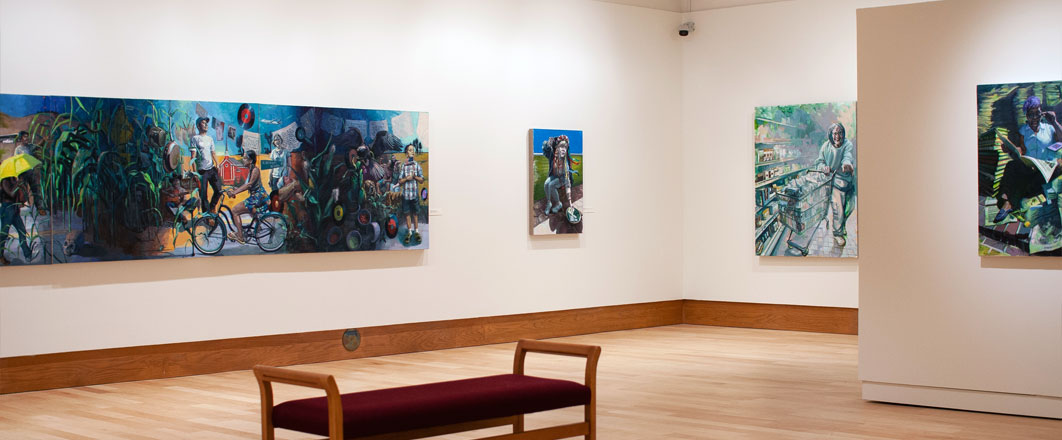 Exhibition Inquiries at the Dennos Museum Center
The Exhibitions Advisory Committee, comprised of NMC faculty, staff, and community partners, meets once per year to review exhibition proposals with Dennos Museum Center curatorial staff. Like most museum programs, the Dennos creates its exhibition schedule approximately two years in advance.
Although the majority of artists selected for exhibition are invited by Dennos curatorial staff, artists may elect to submit materials for consideration.
About the Galleries:
The Dennos Museum Center houses five temporary galleries, each of which rotates approximately three times per year.
Temporary Gallery specifications

| Gallery | Square footage | Linear feet |
| --- | --- | --- |
| MacFarlane Gallery | 2,440 | 175 |
| Schmuckal Gallery | 1,287 | 117 |
| Binsfeld Gallery | 594 | 75 |
| Milliken Auditorium Cases | -- | 35 |
| Zimmerman Sculpture Court | 3,413 | 96 |
Deadline:
Submissions received before October 1 of the current calendar year will be considered during the fall exhibitions committee meeting. Submissions received after October 31 will be considered during the next Exhibitions Advisory Committee meeting. Invitations to participate in future exhibition/program opportunities will be emailed in November.
Funding:
Funds are typically available to help offset shipping, promotional, and/or installation expenses.
Submission Guidelines:
Please include the following materials in your electronic submission. HARD COPY AND INCOMPLETE DIGITAL SUBMISSIONS WILL NOT BE CONSIDERED BY THE COMMITTEE.
Current artist's statement in PDF format
Current CV in PDF format
5-10 JPEG images organized in a single PDF file along with caption information
Submit digital proposals here: exhibitsdmc@nmc.edu