Ruby's Arch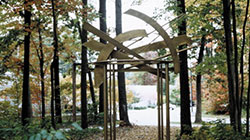 Description: Bronze – 1999
Artist: Susanna Linburg (1935 - 2017), Northport, MI
Location: West side of Dennos Museum Center, Main Campus
About the Sculpture
Ruby's Arch is part of a series originating from a classical source: Selinunte, which was a Greek colony on the southern coast of Sicily. What remains of this destroyed civilization are fragments of architectural elements. Pitted, eroded stone provides a view of a once great society.
Linburg's arches intentionally allude to relationships of order and vitality, of stability and chaos in a modern world. The arch suggests passage of time, of season, of age from youth to maturity, passage from one generation to another, from one landscape to another. It implies a journey, a quest for discovery, for knowledge. There is dramatic tension between the stability of the supporting columns and the energy of the lintel forms, which explore, implode, cascade and erupt.
About the Artist
Linburg's art is inspired by the rhythms and secrets of nature, the mysteries and dreams of life. Her impulse to create art arises from a desire to delve into the root of her personal past, and to know its relationship to the greater collective past embodied in the monuments of art.
Linburg attended Indiana University, where she studied sculpture with David Smith. A recipient of the prestigious Fulbright-Hays Scholarship, she studied at the Slade School of Art, University of London. There she developed a broader understanding of the traditions of western art which she would apply to her own work.
Upon returning to the United States, Linburg received her Master of Fine Arts degree from Wayne State University. She became a Professor of Fine Arts for the College of Art and Design at the Center for Creative Studies while exhibiting nationally and internationally.