Laocoon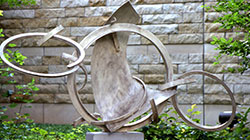 Description: Stainless Steel – 1984
Artist: Joseph Wesner, (1955-2001), Birmingham, MI
Location: In Collections
About the Sculpture
Joseph Wesner cast and welded metal sculptures that are strong, muscular, romantic and poetic. He received his inspiration from a variety of sources, including art history, religion, literature and world travels
The tale of a Trojan priest of Apollo, named Laocoon, is the inspiration behind this stainless steel sculpture. The story goes that Laocoon protested against bringing the wooden horse into Troy during the Trojan War. This offended the gods and Laocoon was killed with his two sons by two sea serpents. The Vatican statue (1st c. BCE) showing the struggle with serpents gave rise to writings on the proper subject of painting and poetry.
About the Artist
Born in Philadelphia, Wesner earned a BA from Georgetown University and an MFA from Cranbrook Art Academy in 1980. Four years later he joined the College for Creative Studies faculty and in 1990 became chair of their sculpture program, a position he held until his untimely death in 2001.
Wesner worked in the "lost wax" method of casting bronze, dating from the first dynasties of China, as early as 1500 B.C.E. He used mostly stone and metal, but also some bamboo and rattan. Rocks were especially fascinating to him: "They are the soul of things, the essence of things."
In 1990 he became one of only two American artists to travel to China for a residency at the Central Academy of Fine Arts in Beijing. This trip, which took place shortly after the Tiananmen Square Massacre, had an enormous influence on his work.