Élan Muse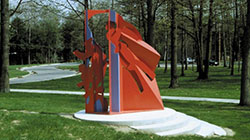 Description: Painted Steel – 1990
Artist: Marcia Wood, (1933-2000), Kalamazoo, MI
About the Sculpture
Wood's 10-foot sculpture, Élan Muse, intends to serve as a symbol celebrating the creative spirit. The larger element is a single figure, in the tradition of the Greek muse, representing the spirit or power which inspires imaginative insight basic to any creative endeavor. The smaller element frames a series of figure-fragments which rise and fall. The focus of this element is on process. The form of the sculpture is fractured and fragmented, multi-perspective, resistant to being shaped into a single visual image. This conception reflects the contemporary experience.
Wood said her work was based on two sources: nature (meaning both landscape and the human figure) and architecture. "Finding a sculptural metaphor which brings these interests together is probably the basic theme which will continue to run through my work as an artist," she once said.
About the Artist
Wood earned a BA from Kalamazoo College and her MFA from Cranbrook Academy of Art. During her career as an artist, Wood taught within the Kalamazoo Public School System, at the National Music Camp, Hope College, the Philadelphia College of Art and Kalamazoo College.