What You Can Do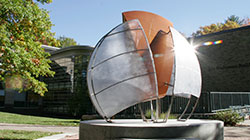 Description: Translucent polycarbonate and painted aluminum
Artist: Bob Emser, (b. 1954), Eureka, IL
Location: North of the entrance to the Tanis Building and west of the Health and Science Building, Main Campus
Dedicated: June 6, 2007
About the Sculpture
What You Can Do was created and dedicated in honor of volunteers who have served and will serve Northwestern Michigan College. Two translucent polycarbonate curved forms represent the College and the community. Between them is a painted aluminum "V" form representing the volunteers as a convergence of effort and support from the community to the College.
About the Artist
Bob Emser is an international sculptor, with exhibits on four continents, including seven countries and 27 states in the United States. He focuses his fulltime efforts creating sculptures for public and private spaces. His extensive body of work, dating back to 1978, can be seen in cities and municipalities, sculpture parks, museums and institutions of higher learning.
During his 25+ year career, he has served as a visiting artist and has taught at several universities, held a tenured professorship, and founded a not-for-profit art center that is still in existence. He also has served as the executive director of Chicago's international sculpture exhibition, Pier Walk, and as president of Chicago Sculpture International, the local affiliate of the International Sculpture Center.
The What You Can Do sculpture project was a gift from Barb and Dudley Smith, longtime NMC volunteers and benefactors, particularly of the Dennos Museum Center's Inuit art collection.