Trajan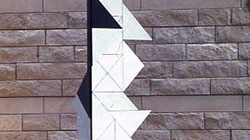 Description: Painted Steel – 1982
Artist: Michael Hall, (b. 1941), Hamtramck, MI
Location: Southwest side of Dennos Museum Center, Main Campus
About the Sculpture
For more than 30 years, Michael Hall has been creating his distinctive visualization of sculpture in which fundamentals of Midwestern architecture are embraced in a dialogue with the modernist traditions of constructivism and minimalism. His sculpture Trajan is representative of inaccessible warehouses of cultural values and remnants.
Trajan was the Emperor of Rome (A.D. 98-117), descended from an old Roman family, and was adopted in 97 by the Emperor Nerva. He was one of the ablest of the Roman emperors: stately and majestic in appearance, possessing a powerful will. In his internal administration Trajan was incessantly occupied in encouraging commerce and industries. The harbor of Ancona was enlarged and new harbors and roads were constructed. Numerous stately ruins in and around Rome gave proof of this emperor's zeal in erecting buildings for public purposes.
About the artist
As a collector, sculptor, critic, and art historian, Hall passionately promotes American regionalist artists and their visual legacy. In the 1980s Hall's sculptures became ambiguous monumental structures that appeared commemorative of the clarity, legibility and common rationality of modern space as epitomized by conventional high-tech corporate architecture – but in fact truly defied it. In effect, his sculptures were his agents that symbolized "anti-monument."
Among his awards: Michigan Council for the Arts Fellowship; Outstanding Artist Award from the Michigan Foundation for the Arts; a National Endowment for the Arts Fellowship; and a Guggenheim Foundation Fellowship.