Spirit Form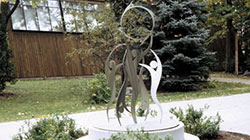 Description: Stainless steel – 1999
Artist: Michael Torre, Traverse City, MI
About the Sculpture
Michael Torre has created a lasting, site-integrated design that follows the form of a traditional sculpture. The campus' countless trees inspired his creation of a form that is essentially a Y- shape, patterned into a human form. This shape is one that he has used many times in sculptures as a form and surface design, and also as a representation of an angel or spirit.
Torre chose to work with stainless steel for this sculpture for many reasons. "My feeling was that a spirit form should reflect the light creating an image that would at times shine brightly or appear less intense depending on the light source," he says. Steel is a strong material able to withstand inclement weather, allowing the sculpture to remain unchanged for many years.
About the Artist
A faculty member at Northwestern Michigan College, Torre listens to music while working, taking in one of two art forms that are the primary influences on his work. The other is dance, and he strives to work dance motifs and movement into most of his pieces.
Having lived in three countries and several states, Torre's career took him from engineer and coal miner to potter, then artist. As a teacher, he finds in his students an ongoing source of inspiration.