Duet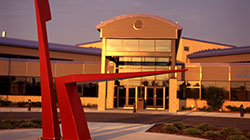 Description: Painted Steel - 2001
Artist: Robert Purvis, (b. 1947), Suttons Bay, MI
About the sculpture
Imagery for this work is derived from the internal forms of helicopter blades and wings of flight. The two elements that come together to create Duet symbolize the relationship of two individuals - John T. Parsons and Frank L. Stulen - for whom the Michigan Technical Education Center is named, and the work they did together to create a new technology that impacted flight and all automated manufacturing. The sculpture was funded with a grant from the Michigan Council for Arts and Cultural Affairs.
About the artist
A native of Traverse City, Michigan, Robert Purvis graduated from Northwestern Michigan College in 1968. He worked in his family's steel fabrication business until 1976 when, after the business was sold, he struck off on his own. After a couple of years of repair work, he was asked to be more creative at the behest of clients interested in unconventional work. From that experience to present, he has tried to use his creativity to the fullest extent possible.
His career has evolved to include architectural ironwork, furniture design and sculpture. It has also increasingly included interaction with art departments and their students in public and private schools throughout the Grand Traverse Region.