Functional Reference #1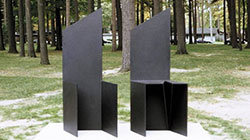 Description: Painted Aluminum – 1993
Artist: Lois Teicher, (b. 1938), Dearborn, MI
Location: South of Scholars Hall, Main Campus
About the Sculpture
With Functional Reference #1, Lois Teicher continues her exploration of the connecting link in a visual dialogue about tension and resolution in abstract forms. The wedges are an absence of mass. She defines the wedge as a split – a metaphor for the notion of duality, of opposites forming a whole. Her sculpture may shift the nature of the visual dialogue and suggest that superficial similarities may mask differences in content. Her work bridges the dichotomy between form for form's sake and object as expression of experience.
About the Artist
Michigan artist and educator Lois Teicher considers her work "a restatement of nature."
"In a philosophical sense, we exist in time and space. I have struggled to understand this idea of opposites within the context of nature, and in a broader sense, the whole or total life experience," she explains. "My work is a metaphor for nature expressed in different shapes."
Lois views her work as deeply passionate. Her sense of idealism and commitment to engage one to interact with art has fostered an interest in creating site-specific works, which respond directly to the environment and serve as the nexus to realizing the dualities of function and non-function, and time and space.
She has been honored with grants and awards from the Michigan Council for the Arts, Detroit Council for the Arts, Arts Foundation of Michigan, Whirlpool Foundation, C. Corcoran Gallery and the Pollock-Krasner Foundation in New York City.