Equilibrium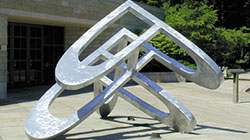 Description: Polished Aluminum – 1991
Artist: Hanna Stiebel, (1924-2005), Detroit, MI
Location: Northwest side of Dennos Museum Center, Main Campus
About the Sculpture
Hanna Stiebel desires that her sculpture relate to the environment, to the architecture and the people around it. Her hope is that people become a part of it, and feel moved aesthetically. Most important, Stiebel invites viewers to walk around Equilibrium to experience the changes and integration of forms that meld into one total composition.
"The classically imposed order of Equilibrium reveals the harmonious relationship of solid to void, form to space and note to musical motif. Variations on a theme, juxtaposition of round form to straight form and positive shape to negative shape create a movement in space, a tension and visual unity akin to a perfectly choreographed dance," she says. "I have learned so much as a dancer. A ballerina on point has been my point of departure. I have taken that delicate balance that exists in all forms and translated it into different mediums."
About the Artist
"In my work, I try to create challenges for myself. To have large forms balance in space, with no reasonable explanation to the naked eye, is an immense challenge. The answer of course lies in the carefully engineered, unseen infrastructure. From that point of view, balance enters into the realm of engineering. I've always been drawn to physics and chemistry and mathematics. The basics of physics exist in everything, even in music."