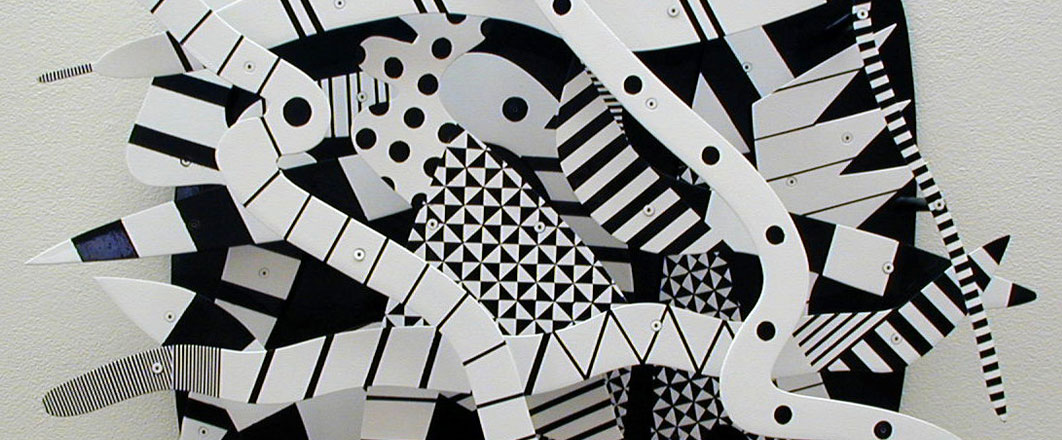 color & shape: black artists from the Dennos collection
January 17, 2022 — April 3, 2022
This exhibit of works by Black American artists highlights the growing legacy of this important collection at the Dennos Museum Center. Comprising 70 years of artistic prowess, the collection ranges from abstract painting to figurative drawing and digital photography. Artists include Charles McGee, Carole Harris, Felrath Hines, and Dex Jones.
Image: Charles McGee, Time Structure. 2002, Painted aluminum. Detail.
EMBRACE THE DREAM FREE DAY
Monday, January 17th, 2022
On January 17th NMC is kicking off a series of programs to celebrate King's legacy called Embrace the Dream. Admission to the museum will be free January 17th for the opening of the exhibition Color & Shape: Black Artists from the Dennos Collection. A selection of videos about MLK will play continuously during open hours in the Dutmers theatre from 11AM - 4PM.
Starting on January 17th, a drive for the NMC Food Pantry will also take place. The museum will have a bin for people to donate items. Bring an item for the NMC Food Pantry, and get a free admission to the museum. Donation items may be of non-perishable food items and toiletries.
In the evening at 7PM MLK: A Musical Celebration will be livestreamed in Milliken Auditorium. You can also watch from home here.