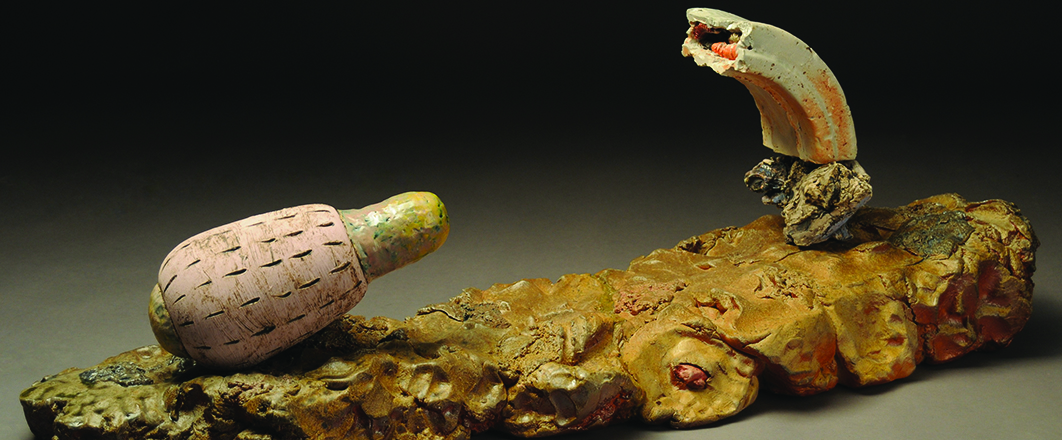 Visual Suppositions: Recent Ceramic Work by Keith Ekstam
SCHEDULED FOR MAY 5, 2021 — MAY 28, 2021
I am committed to clay as my primary art making material for many reasons. It is simultaneously one of the most fragile art media, yet also one of the most permanent and enduring. The simple, direct act of working with clay in one's hands is the polar opposite of the complex, transformative nature of the kiln firing. I am certain that these opposing but vital characteristics are what drives me to choose this material.
My recent work has focused on sculptural forms that generally reference landscapes and which embrace the many possibilities of clay from the raw and earthy to the colorfully glazed and highly finished. This work originated from my interest in Chinese Scholar Rocks, which are generally viewed as small landscapes which embody utopian ideals. While grounded in concepts specifically associated with Scholar Rocks, this work has developed a larger context where I have utilized objects that refer to a diverse range of items. These are as far reaching as children's toys to tools, architectural elements to geology, exalted objects to everyday mundane items. I employ mixed ceramic media by assembling low- fired and high- fired ceramic objects, and occasionally other elements, onto the landscape bases. This is done to provide content and visual contrasts as needed. - Keith Ekstam

Keith Ekstam is a Professor of Art and Design at Missouri State University in Springfield where he has been a member of the faculty since 1987. He maintains a career as an active ceramic artist and dedicated art educator. His MFA degree in ceramics and drawing is from The University of Michigan School of Art and Design, 1987 and his BFA degree in ceramics and painting is from Minnesota State University-Mankato, 1982. In 2017 he was a recipient of the NCECA Excellence in Teaching Award from the National Council on Education for the Ceramic Arts.
Professor Ekstam has exhibited his artwork in more than 300 international, national and regional juried and invitational exhibitions. Exhibition venues include the Röhsska Swedish National Crafts Museum in Goteborg, Auckland Museum in New Zealand, Yingge Wu-Yao Artspace in Taipei, Taiwan, Celebrated Art Gallery in Kaohsiung, Taiwan, the University of Notre Dame, the Clay Studio in Philadelphia and Perimeter Gallery in Chicago. His artwork can be found in numerous public and private collections including the Daum Museum of Contemporary Art, The Great China Ceramic Art Museum in Jingdezhen, China, the Taipei County Yingge Ceramics Museum and Tainan National University of the Arts in Taiwan.
IN CONVERSATION WITH KEITH EKSTAM
Thursday, May 27, 2021 — 10:30 a.m. ET
Join Zach Tate, Ceramics Instructor for the NMC Art Department for a conversation with fellow ceramic artist and colleague Keith Ekstam about his exhibition at the museum. The program will include an illustrated presentation by Ekstam about his work and influences, with questions taken from the audience as well. Enjoy the conversation on Zoom following the link below, or watch the simulcast on our Facebook Page.
Image: Keith Ekstam, Memory Trace. 2016, Wood fired and low fired clay, assembled. Detail.