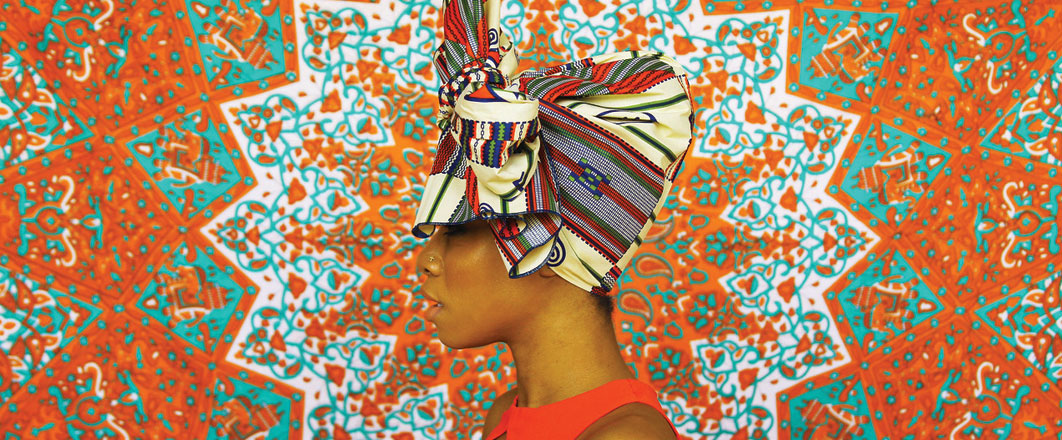 dex r. jones: storied portraits
SCHEDULED FOR FEBRUARY 14, 2021 — MARCH 28, 2021
Influenced by the cultural richness of his Caribbean heritage and Pan-African studies, Dexter R. Jones unwaveringly removes the veil of self-conscious inhibition by eliminating the preconceived sense of beauty and reveals its true splendor in its vulnerable state.  Jones relentlessly pushes the characterization of beauty not often seen. Encompassing a mixture of texture, hues, flesh, and heavy contrast in his editorial photography, his expertise in justly capturing women of vast shades is indicative from his strong matriarchal upbringing. The Brooklyn, NY born photographer utilizes seductive colors and endearing honesty to surpass what is superficial and create a mood that highlights what is his reality.  Jones is driven by an infectious passion that is distinctly exposed in the strong subjects he portrays. That desire is translated in the regality of his images.

Dex R. Jones is one of the youngest artists to have work featured in the Fela Kuti exhibit at the Caribbean Cultural Center African Diaspora Institute (CCCADI), the Dandy Lion exhibit at MoCADA, Neekid Blk Gurls in the Rush Arts Gallery curated by Danny Simmons, Art for Social Justice presented by Amnesty International, and in 2013 Dexter featured his first solo art exhibition entitled, "Knight(ed)".  He's worked with such acclaimed artists as Dread Scott, Patra, Aaron Hall, Brian Kirhagis, Derrick Ashong of Oprah Radio, New York Times bestselling author: Jason Reynolds, Grammy Award Winners: Bridget Kelly, Arrested Development, and more.
Top Image: Dex R. Jones, Wrap Goddess, 2016. Digital SLR image on canvas, 40 x 60 in. detail.
THE ART OF: DEX R. JONES
March 4, 2021 — 10:30 a.m. EST
Join Deputy Director of Museum Programs & Learning Jason Dake for an in-depth conversation with photographer Dex R. Jones about his exhibition. The program will include a brief tour of the gallery, a conversation between Dake and Jones, and an opportunity to ask the artist questions about his work.