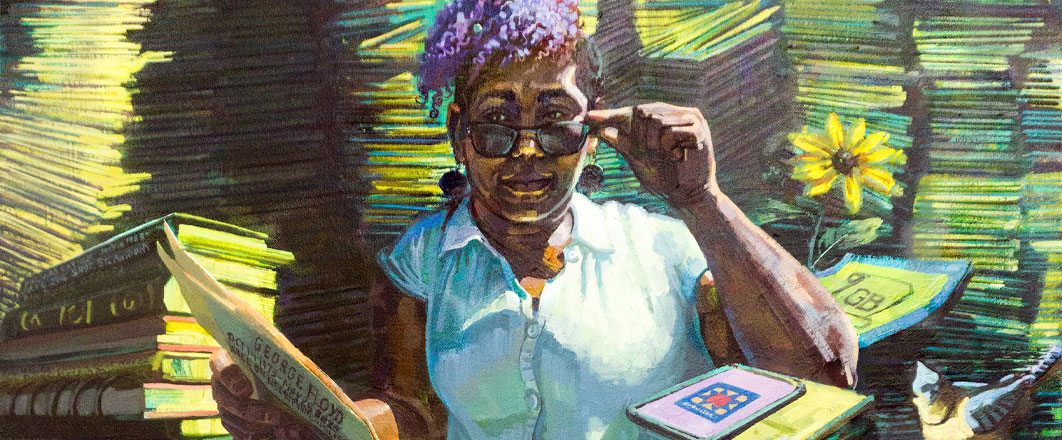 Teresa Dunn: Us
JANUARY 21, 2023 — MAY 28, 2023
Teresa Dunn's recent narrative painting series brings voice to stories that people of color, individuals with complex cultural identities, and immigrants shared with her about their daily experience in America. Informed by Dunn's own upbringing, as a brown Mexican-American in the Midwest, these paintings consider isolation and belonging, joy and struggle, and relationships and identity through visually poetic constructed realities. The narratives are fictive futures, potential alternate realities, speculative nonfiction, or distorted depictions of past events. Dunn uses color, light, and painterly surfaces to build psychological tension on questions of race and gender. Dunn's paintings are not didactic nor do they propose solutions for the issues they consider. Instead, US values representations of Black and Brown lives. 
ABOUT TERESA DUNN
Teresa Dunn is a Mexican American artist raised in rural Southern Illinois. Her identity, life, and art are influenced by her racial and cultural heritages and the complexities of being a brown woman in the Midwest.
Dunn received her MFA from Indiana University Bloomington in 2002. She is a three-time recipient of the Elizabeth Greenshields Foundation Fellowship and received the Jacob K Javits Fellowship from the US Department of Education. Dunn is represented by First Street Gallery in NYC and Galerie l'Échaudé in Paris, France. She exhibits widely and is currently a Professor of Painting and Drawing at Michigan State University in East Lansing where she has taught since 2006.
Image: Teresa Dunn, The Ballad of Lillian Young (Allegory of Black Joy and Sorrow), 2020, oil on canvas, 40x30 in. Detail.