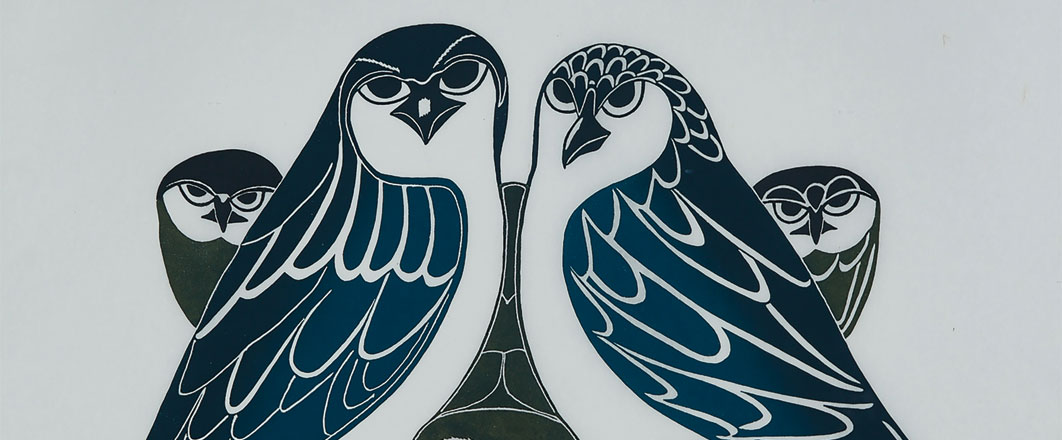 A Growing Legacy: Recent Inuit Art Acquisitions
NOVEMBER 4, 2022 — JUNE 1, 2023
The Dennos Museum Center's Inuit art collection contains more than 2,000 works, making it one of the largest and most comprehensive collections in the United States. Established in the 1960s by Bernie Rink, then director of the Osterlin Library at Northwestern Michigan College, Mr. Rink grew the collection to 500 works through donations and annual purchases.
With the opening of the Dennos Museum Center in 1991, the collection was moved to its new home. In 1995, Philip Power donated over 200 works from his father Eugene's collection. The Power Family Inuit Gallery was named in recognition of this gift and Eugene Power's involvement in bringing Inuit art to the United States. Additionally, the Dudley and Barbara Smith Wing for Inuit Art was completed in 2017 and represents the Smith family's longtime support of Inuit art and the Dennos Museum Center.
We hope you enjoy this special selection of recent additions to the permanent art collection. Special thanks to the following supporters and friends who have so generously donated their private collections to support the Dennos:
Edward Hoort
Patricia Johnson
Cheryl Loesel
Bernie Rink
Barb Smith
Marion Talbot
Learn more about the Dennos Museum Center's Inuit art collection online here.