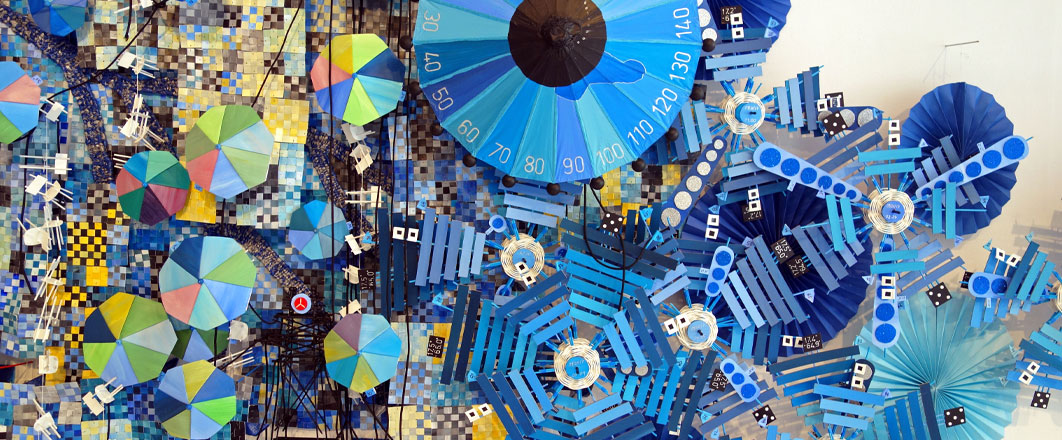 Nathalie Miebach: stay Healthy and strong
January 23, 2022 — May 29, 2022
How do we as individuals or as a species respond and rebuild after an event such as a hurricane or a global pandemic have dramatically changed our lives? How does the abundance of scientific data facilitate or complicate our own sense of resilience in the face of these global threats?  
Nathalie Miebach explores the human response related to extreme weather patterns and the Covid-19 pandemic through the translation of scientific data into woven sculptures, installations and musical scores. This exhibition includes works focused on Covid-19 data and natural disasters that have taken place before and during the pandemic. 
Thank you to our generous sponsors who have made this exhibition possible including two anonymous supporters, Cherryland Construction, FLOW (For the Love of Water), Great Lakes Water Studies Institute (GLWSI) at NMC, the NMC Art Department, the NMC Music Department, Steve and Daniel Baumgartner on behalf of the International Affairs Forum, and Steve and Ann Fisher on behalf of the International Affairs Forum.
Image: Nathalie Miebach, The Burden of Every Drop. 2018, Wood, paper, rope, and data. Detail. Photo courtesy of Nathalie Miebach.