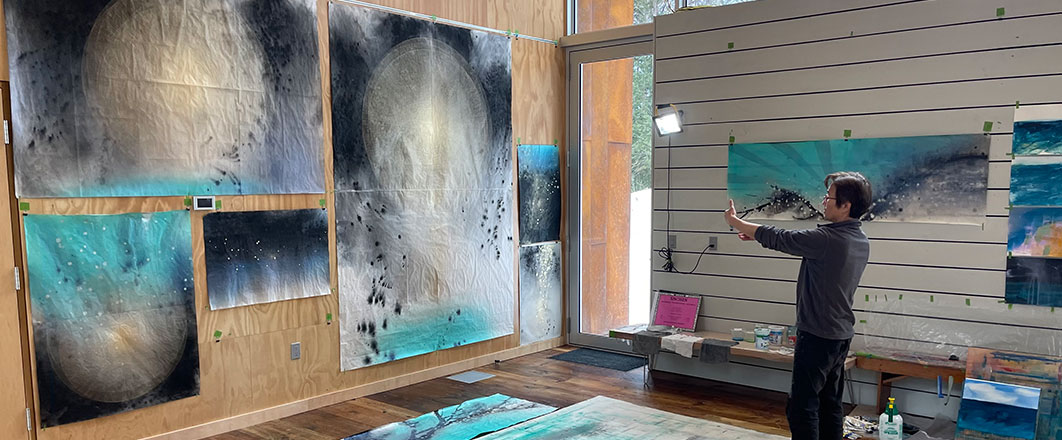 Artist Spotlight: Jinwon Chang
April 15, 2022 — July 24, 2022
Jinwon Chang participated in the Tusen Takk Residency Program in Leelanau, Michigan in fall 2021. Solitude along the horizon of the lake, the stars illuminated by the darkness of the night sky, and the spectacular architecture inspired Jinwon Chang's work during his residency. The Lake Michigan landscape allowed him to translate his experiences into his paintings and drawings and achieve a new quality of openness in his work.
The Artist Spotlight series is a collaboration between the Tusen Takk Foundation and the Dennos Museum Center. The initiative highlights recent work by Tusen Takk's artists-in-residence and makes those efforts available to the general public.
Artist Bio
Currently based in New York, Jinwon Chang (b. 1967, South Korea) studied Korean Traditional Painting in South Korea and moved to New York in 2004. He earned his MFA at SUNY New Paltz in 2006. He has been invited to major residency programs at the Gwang Ju City Museum in Beijing, China in 2013 and Bellevue-Saal in Wiesbaden, Germany in 2015. He has exhibited his works in major galleries and museums including the Marshall M. Fredericks Sculpture Museum, the Dennos Museum Center, and the Wayne State University Museum. His works are held in the collections of Wiesbaden City Hall, Wiesbaden, Germany; Gwangju City Hall, Korea; and more. Jinwon Chang has been represented by Waterfall Gallery in NYC since 2011.
About Tusen Takk
Named for an expression of thankfulness, the Tusen Takk Foundation nourishes artists by giving them a place to work, engagement opportunities to enrich the culture of Northwest Michigan, and a platform to share their work internationally. Designed with intention and care, Tusen Takk is a functional "making place" with studios that provide artists with spaces to imagine and create their work located in Leelanau County, Michigan.
About Waterfall Mansion & Gallery
Waterfall Mansion & Gallery is a cultural hub that includes the Waterfall Arts Foundation, the Waterfall Gallery, and the Waterfall Artist Ministry. As an ecosystem that intersects commercial, socially responsible, and non-profit community interests, Waterfall has been organically connecting artists, leaders, influencers, patrons, and others around faith, art, and culture since opening in 2014. Waterfall develops platforms and programming for its patrons that also provides resources and better conditions for its artist's creativity and careers.