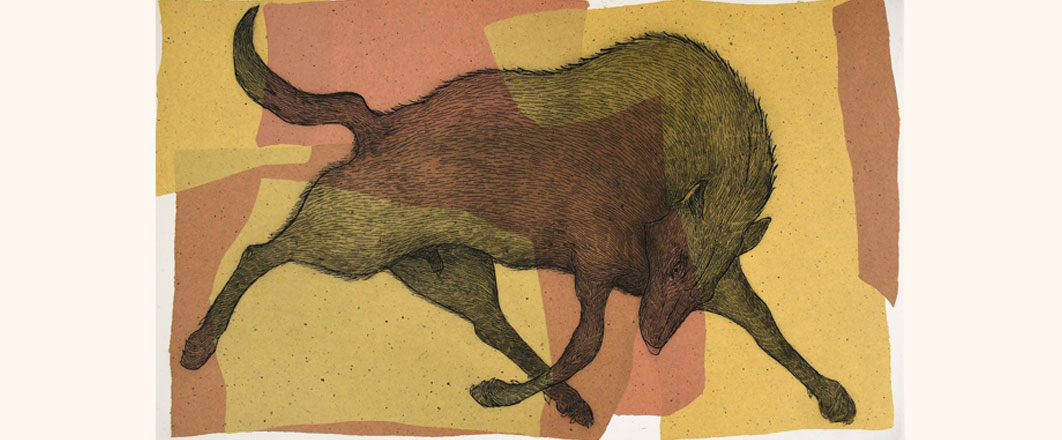 2022 CAPE DORSET ANNUAL PRINT COLLECTION
October 14, 2022 — November 27, 2022*
While the traditional styles and subjects of Kinngait printmaking are still popular among collectors, Inuit artists are becoming increasingly interested in creating art that reflects today's reality in the Arctic. In this collection of 34 prints by 15 artists, we have a diverse array of themes and techniques that showcase each artist's individual voice. They range from the traditional imagery of Pee Ashevak's Sunlit Owl, to the more contemporary style of Saimaiyu Akesuk's Breathless Spirit. Other expressions of modern life include Qavavau Manumie's Smoking Raven, an etching that depicts a raven cleaning out the tics and fleas under its feathers with a discarded burning cigarette butt, and Shuvinai Ashoona's Mending the World, a lithograph where the artist has injected surreal visions into depictions of contemporary Inuit life. In doing so, Shuvinai has overturned stereotypical notions of Inuit culture while capturing the dramatic changes experienced in recent history. 
*The exhibition opening date has been postponed due to international shipping delays. Reservations will still begin on September 26th. Please check back for updates. 
RESERVATIONS OPEN: SEPTEMBER 26, 2022 — 11AM EST
SALE BEGINS: OCTOBER 15TH
Prints are limited and reservations will be taken on a first-come first-served basis only beginning at 11:00AM Monday, September 26th. You are welcome to reserve more than one print. You are also welcome to request a second or third choice in the case your first choice is unavailable. We will maintain a wait list and will contact individuals as prints become available. Shipping is available for prints at an additional cost.
 
Upon your reservation, you will be contacted within two days in the order requests were received to let you know if your request is available and to confirm the details of your reservation. A digital invoice will be emailed to you on October 15th for payment. Prints officially go on sale Saturday, October 15, 2022 and all reserved prints will be released at that time. Prints will be available for pickup and shipping at the end of the museum's exhibit Dec. 1st. 
See all the prints, and more detailed information about the sale on the store's website. 
Image: Quvianaqtuk Pudlat, Wolf Hackles. 2022, Etching and chine collé.