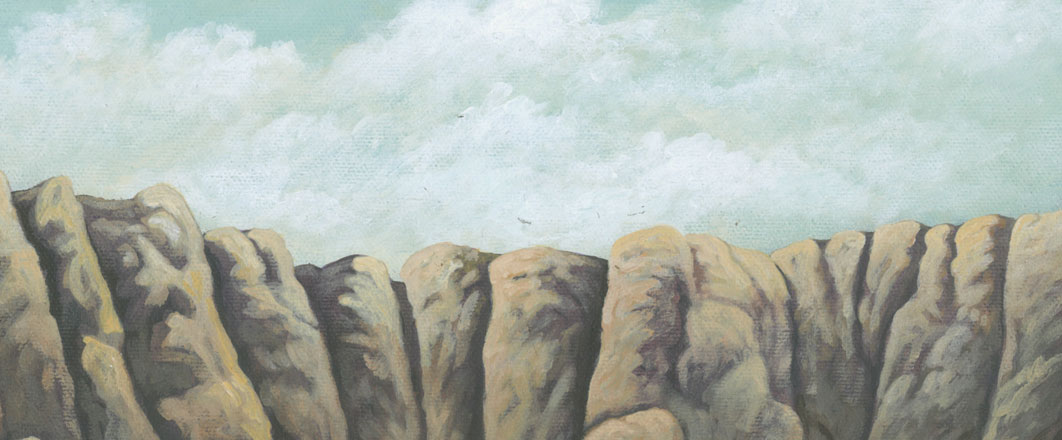 Surviving on Crumbs: The Art of Michael Wren Mortimer
Scheduled for October 6, 2021 — January 2, 2022
"My art is something that has been a large part of my life even in times when I was homeless. I was always gathering ideas for works to come. The art I do now is what I've become to understand as a statement of Truth. I draw or paint what I see and feel; an honest viewing of the life around me. My hope, with this show, is I would rather be remembered for my creativity, and my art, than for my crimes." 
– Michael Wren Mortimer
In 2019, NMC emeritus art professor Paul Welch received word from a former student that her brother had been honing his craft at drawing and painting over the years. Although phone calls asking Welch to view another artist's work and provide comment and critique is common for the 87-year old artist and teacher, there was a slightly unusual catch to this request—it wasn't possible to meet the artist himself in-person.
Welch would communicate with fellow artist Michael Wren Mortimer through a series of letters over the next few years, and learned that Mortimer was serving a life sentence in a Boise, Idaho prison. Using common materials that he could find within the prison, Mortimer developed a series of works on paper that speak to the isolation, boundaries, and psychological and emotional stress that results from over 50 years in confinement.
One letter from Mortimer in particular captures the relationship between the two artists that—although separated by physical distance and by very different lived experiences—nevertheless continued to develop over the years:
…I'd like to say that I very much appreciate your help and efforts in this showing of my works. I was very pleased when Judy told me of your reaction to what she brought you to look at—she sent me a picture of your work (Artists Never Die). I said "oh yes, he's got it"—I knew then that you would understand my works more than those that are around me. I do not often show my works to others. I have to say it [is] very refreshing to have my works seen as works of value.
On Surviving on Crumbs:
This speaks of living with less inside [than] out of prison. It is something I know well, but it does not mean always a bad thing. Even though there were hard times, I was content most times. If I had some art supplies, a warm place to live, and food, I was doing o.k. I never wanted a big house or fancy new car. A $50 car got me around just fine. As long as I could get through the day, I was doing good. I was living my art…I was art…I was alive…what else is there…really...

On display through January 2, 2022, Surviving on Crumbs includes over 20 original works on paper and canvas, as well as carvings and sculptures.
 To see a slideshow of the exhibition, please follow the link below.