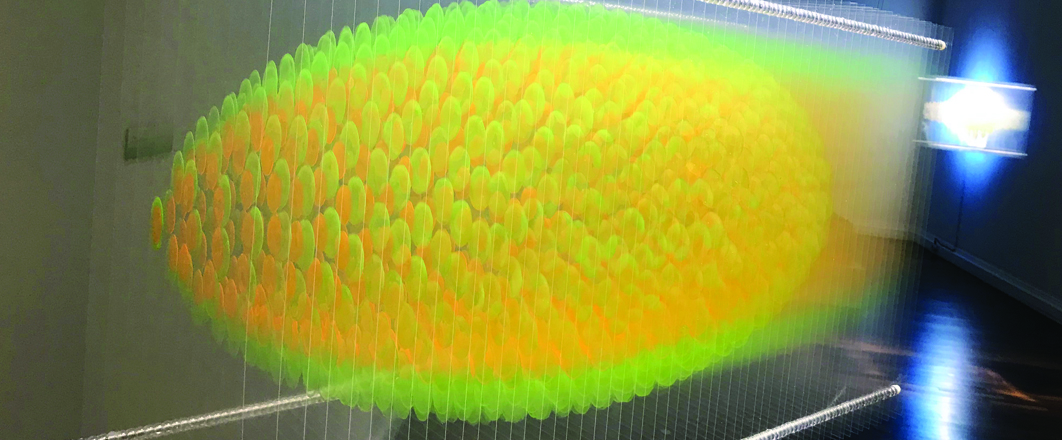 Russell Prather: And the Heart is Pleased by One Thing After Another
SCHEDULED FOR JUNE 6, 2021 — AUGUST 15, 2021
Russell Prather makes visually volatile renderings of simple forms and ordinary objects from layers of transparent and translucent media. He creates these layers using both additive and subtractive methods: painting tinted acrylic medium onto sheets of transparent polyester film, or cutting out shapes from sheets of insect screening another materials. He then aligns these layers on metal rods and suspend them from the ceiling, or stretches them on aluminum screen frames that he mounts on light boxes that sit on the floor.

In either case, whether looking up or down, viewers see a succession of two-dimensional surfaces that collectively conjure a three-dimensional body. Their structure—schematic, segmented, sequential—gives these pieces an inherent instability that frustrates attempts to categorize them, as either whole or fragmentary, spatial or temporal, abstract or concrete—even as paintings or sculptures. With no single, fixed position from which to view them, the alignment of the layers is always in flux. Viewers, by shifting their own perspective and proximity, can transform these pieces in both subtle and radical ways. The floor pieces made from bug screen produce complex moiré patterns that make them seem to flicker and squirm as you move around them. The hanging pieces can appear solid and extended when viewed at an angle, flat and compressed from the front or back, but from the side they seem to fold into space and disappear.

Prather studied philosophy and animation at the University of British Columbia, and literature and writing at the University of Washington. A self-taught artist, his creative practice has been influenced particularly by the illuminated books of eighteenth-century artist and poet William Blake. Prather's work has been exhibited at the Muskegon Museum of Art, Museum of Northwest Art, the Grand Rapids Art Museum, the Kalamazoo Institute of Arts, Truman State University in Missouri, Finlandia University, the Duluth Art Institute, The Gerald R. Ford Presidential Museum, Michigan Technological University, the Chicago Art Department Gallery and Stephen F. Austin State University in Texas. He has shown internationally at Yorck Studios in Berlin, Venice International University, John Moores University in Liverpool, and Hong Kong Baptist University. He has solo shows upcoming at Hatch Art in Detroit and Caza Sikes Gallery in Cincinnati. He teaches British literary and visual culture, and modern art and film, at Northern Michigan University in Marquette.
THE ART OF: RUSSELL PRATHER
Thursday, June 24, 2021 — 6:30 p.m. ET
Join us online for a live conversation with artist Russell Prather. We will discuss Prather's exhibition installed in the galleries through August 15, along with the artist's background and inspirations. Attendees will have the chance to ask questions via Zoom or Facebook. 
Image: Russell Prather, Blimp. Tinted acrylic medium on layers of polyester film, 14 x 11 x 29.5 in.