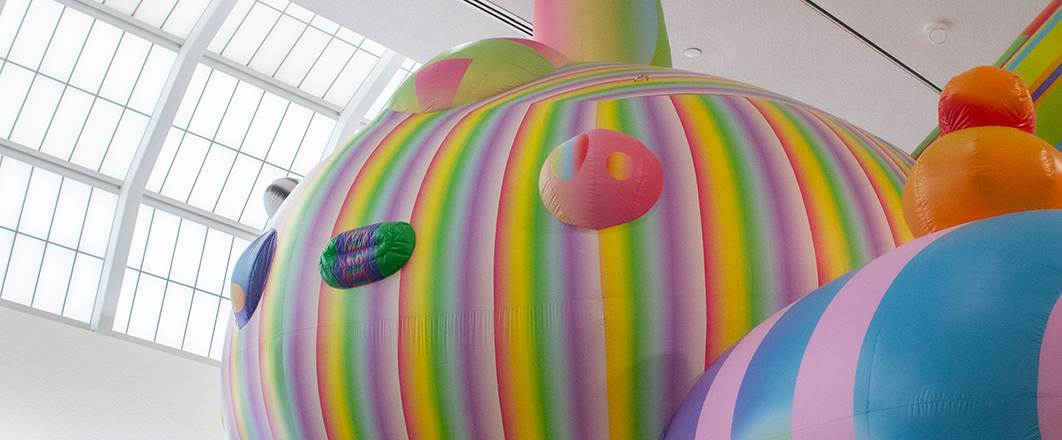 BLOW UP II: INFLATABLE CONTEMPORARY ART
SCHEDULED FOR FEBRUARY 21, 2021 — MAY 16, 2021
BLOW UP II: Inflatable Contemporary Art explores the imaginative ways that air is used as a tool to create large-scale sculptures. The artists in BLOW UP II translate everyday materials and imagery into larger-than-life, yet nearly lighter-than-air art that is rich with meaning, resulting in a wide array of works that are figurative, conceptual, and abstract. Inflatable works are often initially regarded as whimsical or humorous, yet they can contain serious critiques of pop-culture, social norms and the politics of space. BLOW UP II explores the complex relationship between the familiarity of the material combined with serious commentary, creating a dialogue around reinterpretation.
NOTE: This is an indoor exhibition. Masks are required for everyone who enters the museum.
EDUCATIONAL CONTENT
Would you like to make your own inflatable sculpture from homemade materials? Sculpture artist Nicole Banowetz created an instructional video available on the Dennos YouTube page here. Written instructions are also available here.

Curated by Carrie Lederer and organized by Bedford Gallery:

THE ART OF: JOSHUA HARKER
Wednesday, April 21, 2021 — 10:30 a.m. ET
Watch on IGTV @dennosmuseumcenter
Join the conversation on Instagram Live with Deputy Director Jason Dake as he talks to Joshua Harker about his work in the exhibition, Blow Up II, now on view through May 16. We'll get to know a bit about Harker's background and process, as well as discussing how he created a giant inflatable skull for the exhibition.
Joshua Harker (b.1970) is an American artist recognized for his adaptation and incorporation of modern design and manufacturing technologies with traditional methods and materials. This has included 3d printing, video projection mapping, CAD design, digital sculpture, 3d scanning, and biometrics. In addition to static and kinetic works, he bridges 2nd and 3rd dimensions via projection mapping of images and animation onto sculptures in large scale live installations.
In addition to exhibiting globally in galleries and museums, he produced the #1 most funded Sculpture project in Kickstarter history (2011-2015). Joshua's experimentation in the presentation of his art through social media and the internet has garnered him international recognition and acclaim. His work is among thousands of collections and has appeared in countless publications and press worldwide.
Image: Josh Harker, Crania Geodesica: Palloncino Anatomica, 2019, painted vinyl fabric, electric fan,111 x 96 x 153 inches. Installation detail.

This is exhibit was made possible with support from the Michigan Council of Arts and Cultural Affiairs. 
Top Image: FriendsWithYou, Never Ending Story, Spider Man's Eye. 2019, Ripstop nylon, electric fan, 150 x 108 x 168 in. Installation view.