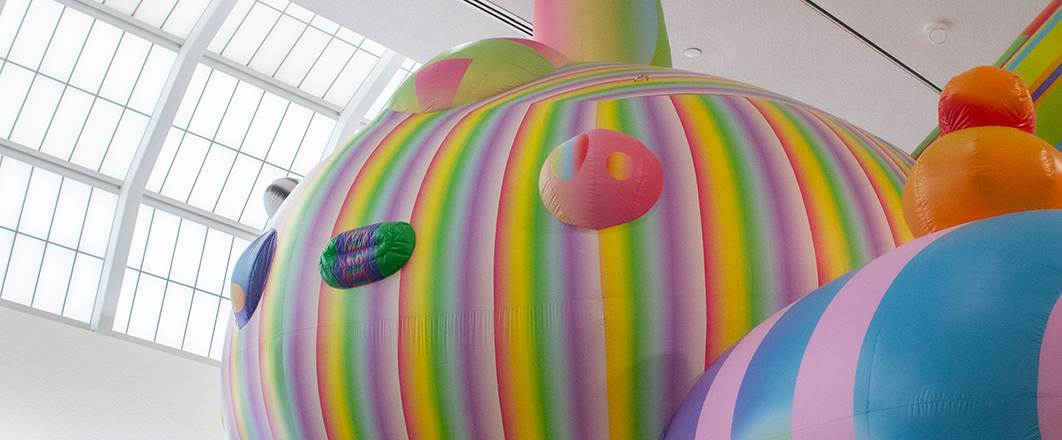 BLOW UP II: INFLATABLE CONTEMPORARY ART
SCHEDULED FOR FEBRUARY 21, 2021 — MAY 16, 2021
BLOW UP II: Inflatable Contemporary Art explores the imaginative ways that air is used as a tool to create large-scale sculptures. The artists in BLOW UP II translate everyday materials and imagery into larger-than-life, yet nearly lighter-than-air art that is rich with meaning, resulting in a wide array of works that are figurative, conceptual, and abstract. Inflatable works are often initially regarded as whimsical or humorous, yet they can contain serious critiques of pop-culture, social norms and the politics of space. BLOW UP II explores the complex relationship between the familiarity of the material combined with serious commentary, creating a dialogue around reinterpretation.
NOTE: This is an indoor exhibition. Masks are required for everyone who enters the museum.
EDUCATIONAL CONTENT
Would you like to make your own inflatable sculpture from homemade materials? Sculpture artist Nicole Banowetz created an instructional video available on the Dennos YouTube page here. Written instructions are also available here.

Curated by Carrie Lederer and organized by Bedford Gallery:

 This is exhibit was made possible with support from the Michigan Council of Arts and Cultural Affiairs. 

Top Image: FriendsWithYou, Never Ending Story, Spider Man's Eye. 2019, Ripstop nylon, electric fan, 150 x 108 x 168 in. Installation view.