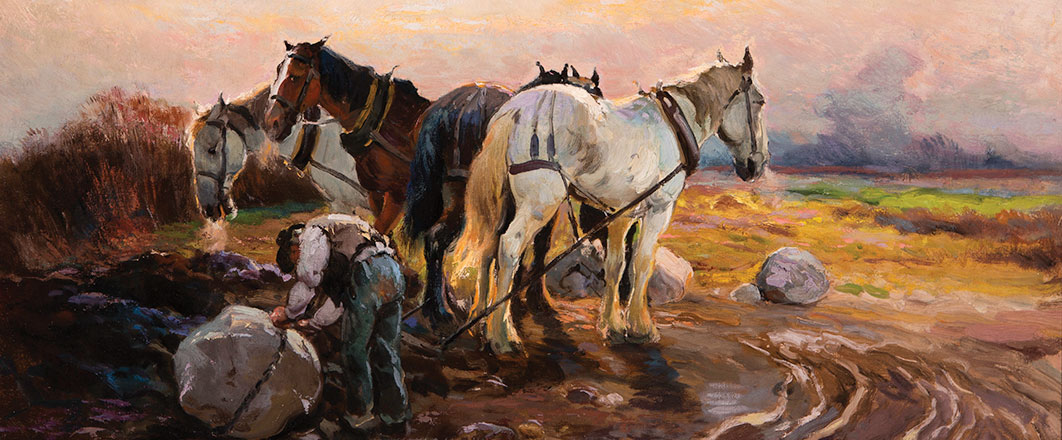 Mathias j. alten: an artist at the turn of the century
SEPTEMBER 22, 2020 — JANUARY 31, 2021
The German-born American artist, Mathias Joseph Alten (1871-1938) immigrated to the United States in 1889 at the age of seventeen. His family settled in Grand Rapids, Michigan, a premier furniture-manufacturing center and desired location for immigrants in the late-nineteenth century. Here, amidst a rapidly changing world, Alten went on to establish a family, home and studio for the entirety of his career.
In the decades leading up to turn of the century, the United States experienced rapid economic and urban growth, driven by industrialization and immigration. Alten was part of this wave of new immigrants, and arrived in Michigan while lumber production was fueling the state's growth. Throughout the early decades of the twentieth century, he would experience profound changes to transportation, industry, and society that would define the American landscape and his way of life.
Like many American painters of the period, Alten was drawn to the major artistic and cultural centers of Europe and the United States. Beginning in 1898, and over the next four decades, he traveled extensively to pursue artistic training, exhibit, and engage with fellow artists. In spite of his attraction to these communities, Alten chose to keep his professional home in the same city and state that had welcomed his family during the late-nineteenth century. As a result, his work was influenced by the landscapes and techniques he discovered abroad, but also remained deeply connected to the rural Michigan landscape widely featured in his paintings.
Over his career, Alten created more than 3,000 works of art, initially influenced by the Barbizon and Hague Schools and later by the Impressionism movement. He repeatedly sought out and celebrated traditional laborers and nostalgic settings even as modernization transformed life in the early twentieth-century. This exhibition celebrates Alten's life and career with works of art, historic photographs and personal artifacts drawn from the collection at Grand Valley State University.
GVSU currently holds the largest public collection of Mathias J. Alten. All artwork and objects included in this exhibition are on loan from the GVSU Art Gallery and the GVSU Special Collections & University Archives.
Image: Mathias J. Alten, "Hauling the Boulder." 1910, Oil on canvas. From the collection of the GVSU Art Gallery.