Carole Harris: Art Quilts
september 22, 2019 — december 29, 2019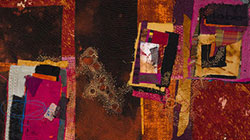 Carole Harris is a fiber artist who has redefined and subverted the basic concepts of quilting to suit her own purposes. She extends the boundaries of traditional quilting by exploring other forms of stitchery, irregular shapes, textures, materials, and objects. Harris enjoyed a career as an interior designer for over 45 years, 33 years as president of Harris Design Group, LLC, the interior and graphic design firm she founded in 1976 and dissolved in 2009 to devote full time to her studio art practice.
Travels to Europe, China, Japan, and the Caribbean have led her to explore how time impacts and alters our natural and constructed environments.
"I now draw inspiration from walls, aging structures and object that reveal years of use. My intention is to celebrate the beauty in the frayed, the decaying and the repaired. I want to capture the patina of color softened by time, as well as feature the nicks, scratches, scars and the marks left by nature or humans on constructed and natural surfaces. I want to interpret these changes and tell these stories of time, place and people in cloth, using creative stitching, layering and the mixing of colorful and textured fabrics." -Carole Harris
Join us on Saturday, November 16th at 2:00 PM for a lecture with Carole Harris about her work in Milliken Auditorium. Regular addmission rates apply. Please check in at the front desk before the event.