Armand Merizon: His Life and Art
june 9, 2019 — september 8, 2019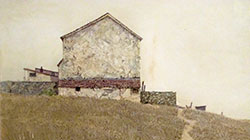 Armand Merizon (1920 - 2010) was active/lived in Michigan and New York.  He is known for regional landscape and seascape painting.  A "painter's painter," he was a master of the media of oil, acrylic, casein and tempera who constantly experimented with brush techniques, and color relationships.
Merizon was renowned for his prolific range of compositions that reveal stark realism, lyrical and geometric abstraction, and layers of transparency and color. His legacy as a veteran teacher with both technical expertise and a life encompassing vision to express is highly respected by both amateur and professional painters.  
This exhibition is organized by the Muskegon Museum of Art.