2018 CAPE DORSET ANNUAL PRINT COLLECTION
october 19 — november 25, 2018
Opening Reception Saturday, October 20, 9:30 am
Sale of prints via lottery begins at 10:00 am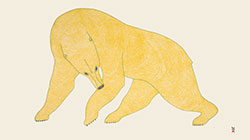 The 59th Annual Cape Dorset Print Collection consists of 34 images by 10 artists. The collection presents an exciting mix of themes; the comforting and naturalistic are juxtaposed with familiar motifs presents in bold, new perspectives. There are many established artists, with two emerging talents and one elder, Axangayuk Shaa who has not produced a print since 1961.
Due to the high demand for these limited edition prints, the sale will be conducted by lottery. Customers need not be present to purchase prints. Names will be drawn beginning at 10:00 am. Customers can request a catalog and call in their orders to 231-995-1586 or email ttarnow@nmc.edu  15% Exchange rate will be taken off the Canadian price of the prints. All sales are final. Prints can be viewed at www.dorsetfinearts.com. 
The Dennos Museum Center is honored to host the annual Inuit Art Society conference and meeting,  Friday, October 19 – Sunday, October 21, 2018. Registration information can be found at inuitartsociety.org. The conference will feature Inuit artists, speakers and Marketplace to purchase Inuit Art.
Proceeds from the sale will be used to purchase new work for the Dennos Museum Center's Inuit Collection. The Museum reserves the right to select up to three works from the collection.
Image:
QUVIANAQTUK PUDLAT
Mighty Bear
Stonecut
Paper: Kizuki Kozo Natural
Printer: Qavavau Manumie
61.5 x 96.4 cm