2016 Cape Dorset Annual Print Collection
OCTOBER 10 - NOVEMBER 27, 2016
Opening Reception Saturday, October 15, 10:00 am
Sale of Prints via Lottery Begins at 10:30 am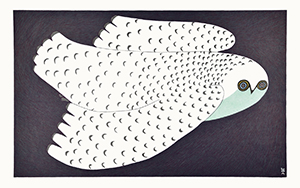 The 2016 Cape Dorset Print Collection consists of 27 images by seven artists. Since 1959 the Cape Dorset Annual Print Collection has showcased the best and brightest Inuit art from West Baffin Island. More than a half century of printmaking has developed the technical sophistication and innovation aesthetic which has become a hallmark of Kinngait Studios.  Each collection tells a new story, and this year's chapter is an homage to Inuit art history and cultural heritage. Whether it is depictions of wildlife or legend, Inuit people or the land, the work of the featured seven artists find fresh inspiration in tradition. 
Due to the high demand for these limited edition prints, the sale will be conducted by lottery. Customers need not be present to purchase prints. Names will be drawn beginning at 10:30 am. Customers can request a catalog and call in their orders to 231-995-1586 or email ttarnow@nmc.edu. The 15% Exchange Rate will be taken off the Canadian price of the prints. All sales are final.  Prints can be viewed here. 
Arctic Tour Talk Begins at 11:00 am Following the Sale of Prints
Join Museum Store Manager, Terry Tarnow, for visual tour of the Canadian Arctic as she gives a presentation on the 2017 Adventure Canada Tours. Tarnow has traveled with the company meeting artists, hiking the land, seeing arctic wildlife and will confirm that it is the trip of a lifetime.
Image:
NINGEOKULUK TEEVEE
16-24 
Midnight Owl
Stonecut & Stencil
Paper: Kizuki Kozo White
Printer: Qavavau Manumie
62 x 97.6 cm
Edition: 100