By Air, Land, and Sea: Stories of the Human Experience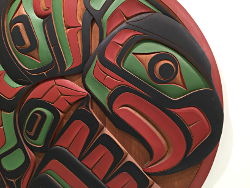 The search for truth is a fundamental part of the human experience. Where we come from, why we are here, and who or what has agency over us, are essential questions to help us find our way in the world. Often the answers to these questions and others, are expressed through stories which make their way into artworks. This exhibition is part of an ongoing series called A Growing Legacy – Works from the Dennos Collection.
Image: John Livingston, Sea Eagle (detail), n.d.