Extreme Fibers: Textile Icons and the New Edge
December 13, 2015 — March 6, 2016
Extreme Fibers is a two-part exhibition that features artwork from established and emerging textile artists from around the world. 
The first part of the exhibition is comprised of the artwork of some of the world's top fiber artists, including: 
Luis Acosta, Kyoung Ae Cho, Kate Anderson, Ewa Bartosz-Mazus, Lia Cook, Thomas Cronenberg, Nancy Crow, Patricia Hickman, Jan Hopkins, Wolfgang Horn, Ferne Jacobs, David Johnson, Gerhardt Knodel, Gyöngy Laky, Maximo Laura, Tom Lundberg, Libby Mijanovich, Laura Foster Nicholson, Krystyna Sadej, Arturo Alonzo Sandoval, Chizu Sekiguchi, Sherri Smith, Ixchel Suarez, Yoshiko Wada, Dawn Walden, Carole Weller, and Bhakti Ziek.
The second part of the exhibition features artwork selected from entries by artists from around the world by a panel of three jurors, Ferne Jacobs, Gyöngy Laky, and Namita Gupta Wiggers.
This exhibition was organized by the Muskegon Museum of Art, Muskegon, Michigan and Guest Curator Geary Jones.
A digital catalog of the exhibition is available here.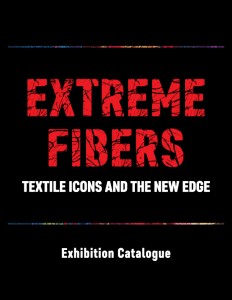 Kumi Yamashita
Constellation - Mana
Wood panel, galvanized brads, single black sewing thread
2011