Howard BenTre: The Lightness of Being – Cast Glass Sculpture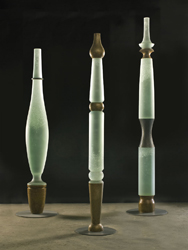 June 30 – September 16, 2012
This exhibition focuses on Howard BenTre's latest Cast Glass and Bronze sculptures.  Having pioneered the use of cast glass for monumental indoor and outdoor sculpture, this newest body of work reflects on lightness and strength, architecture and the human form.
The new sculptures of Howard BenTre's work continue his tradition of referencing inspirational architectural forms: stupas, spires, minarets and obelisks.  At the same time, they can be seen as individual figures forming a related family group, creating archetypal images.
Each sculpture has a foot anchoring it firmly to the ground, a demarcated waist and culminates in a head that continues the upward, devotional movement of the form.  As individual works, they are profound, as each sculpture articulates the connection between the spiritual intention of the referenced architectural form and our own physical and spiritual presence on Earth.
Bound together as a family the sculptures vary in shape and material.
Image: Howard BenTre, The Lightness of Being #2, #3, and #7, 2008-2009, Cast glass, cast bronze, lead, patina, adhesives.                                                                                              We now have Howard Ben Tre's Lightness of Being Exhibition Catalog. $18 plus sales tax and shipping if necessary.  Available in the Museum Store.  Call 231-995-1586 with any questions.