Build Community. Spark Conversation. Inspire Change.
The Dennos Museum Center presents a variety of programs for all ages, seeking to engage, enlighten and entertain audiences. Check out the listings here to find out what's happening.

The Art Of: _ is a series of programs that help connect the visual arts to broader topics in our busy lives, from coffee to education, technology, and even death and dying. Programs have included films, panel discussions, hands-on art, and food and drink tastings. Have an idea for a program? Contact Jason Dake at jdake@nmc.edu to pitch it.
The Art of: Chasing Trane – The John Coltrane Documentary by John Scheinfeld
Thursday, October 12, 2017 – 6:45pm Music | 7:15pm Film 
FREE
Set against the social, political and cultural landscape of the times, Chasing Trane brings saxophone great John Coltrane to life, as a man and an artist. The film is the definitive look at the boundary- shattering musician whose influence continues to this day. The NMC Jazz Quintet will perform a brief set and discuss Coltrane's influence on the genre. Chasing Trane is presented by Indy Lens Pop-Up, a program of Independent Lens. Click here for trailer. (Film: 90 minutes)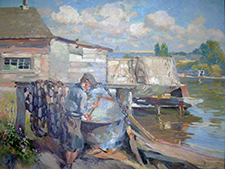 The Art of: Exploring – What's so great about the Great Lakes?
Thursday, November 2, 2017 – 7pm 
General Admission Applies, Free for Dennos Members
In conjunction with the theme of exploration throughout November, this program invites various Northern Michigan organizations and community leaders to discuss current issues surrounding theGreat Lakes. Join representatives from Thunder Bay National Marine Sanctuary, NMC Great LakesWater Studies Institute, Grand Traverse Bay Underwater Preserve, and Grass River Natural Areafor a conversation about the history and future of Great Lakes exploration. In addition, you can add your personal thoughts and brushstrokes to a collaborative artwork about the Great Lakes.
Image: Mathias Alten, Leland: Boiling Floats (c. 1935), Collection of Dennos Museum Center.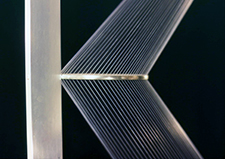 The Art of: Craig Tandy – Lines of Light
Thursday, November 30, 2017 – 6:30-8:00pm
General Admission Applies, Free for Dennos Members
Canadian artist Craig Tandy constructs complex sculptures with monofilament nylon that illustratethe properties of projected light, with an interest in creating a space through which the viewer can move. Tandy will install his dynamic work, Lines of Light, in the Zimmerman Sculpture Court,transforming the space into a massive 3-dimensional study of pattern and structure. Join us for a chance to see his work in progress, ask questions, and enjoy conversation and light refreshments. Craig Tandy has participated in more than 50 solo and group exhibitions in the USA, Canada, Europe, and Latin America. He has also taught at UCLA, Oakwood School, and in his own studio in Traverse City. He currently lives and works in London, Canada.
Image: Craig Tandy, Double Pull Beam (detail).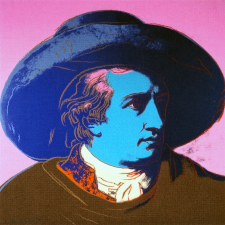 The Art of: Brewing, Part 2 – Engaging Your Right Brain (Brewery)


Thursday, January 11, 2018 – 6:30-8:00pm
General Admission Applies, Free for Dennos Members
Following up on the first chapter of The Art of: Brewing with Higher Grounds Coffee in 2016, this program gives you the chance to taste some of Right Brain Brewery's finest beers while exercising your creativity and making connections between craftbrews and fine art. What do hops and Pop Art, Lovibond Units and the Color Wheel, or bubbles and Ben-Day dots have in common? Let's find out!
Image: Andy Warhol, Goethe (1982), Collection of Dennos Museum Center.

The Art of:_ is sponsored in part by Morsels of Traverse City.
More events coming soon!
Past Events for THE ART OF:_
March 2017 - The Art of: Becoming - The Next Generation Finds its Foothold, screening of The Bad Kids and a short film about TBAISD Career-Tech Center.
February 2017 - The Art of: Dying –Changing the way we think and talk about the end of life, presented by Golden Intentions
December 2016 - The Art of: Traveling – A conversation with local artists about global issues
November 2016 - The Art of: Grandmothering – Tea and conversation with local grandmothers, sponsored by Cordia Senior Living.
October 2016 - The Art of: Brewing – A special presentation of Artist After Hours with Crosshatch, Blackbird Arts, and Higher Grounds
September 2016 - The Art of: Teaching - Class of '27 film screening and discussion
FILMS
The Dennos Museum Center presents several films during the year. Programs feature FREE screenings of Independent Lens films and other sources. These films are generally shown captioned and a sign language interpreter is available by calling (231) 995-1029.
DRAW NOMI
DRAW NoMI is a collaborative arts event focused on bringing people together to make art.  Join us for events in October and throughout the year! Just look for the logo! DRAW NoMI is supported by the Linda O'Meara Fund for Arts Education. See schedule here.
APPRAISAL DAY
Do you have a family heirloom, work of art, or historical artifact that you want more information about? Local art and antique appraiser Don Butkovich will be at the Dennos Museum Center to verbally appraise your hidden treasures. Each person can bring one item per session at a fee of $10. Sessions are up to 15 minutes each. Each additional item requires registration for a separate session at an extra $10 fee. All proceeds support the Museum's education programming fund. Subscribe to our email newsletter for notification of upcoming Appraisal Days. Reservations are required. Register online or call (231) 995-1573.
International Affairs Forum
International Affairs Forum's seven-lecture season brings top foreign policy experts to Traverse City to speak on pressing global issues. Join us by becoming a member or by purchasing tickets at the door. Held on most third Thursdays of the month, October-June. See schedule here.