Build Community. Spark Conversation. Inspire Change.
The Dennos Museum Center presents a variety of programs for all ages, seeking to engage, enlighten and entertain audiences. Check out the listings here to find out what's happening.
---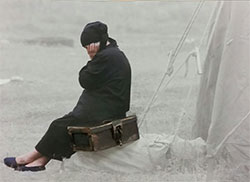 GALLERY TALK: Discovering Life in a Package
with guest facilitator, Reverend Wayne Dziekan
Thursday, May 9, 2019 – 6pm
Saturday, May 18, 2019 – 1pm
Free admission for the event (General admission applies for visiting the entire museum)
Light refreshments provided
Reserve your spot by calling (231)995-1055.
Join us for a guided, interactive viewing of Orna Ben-Ami's Entire Life in a Package exhibition. Led by Rev. Wayne Dziekan, the program will focus on connecting the exhibition's art and message to our own lives and experiences with the goal of helping to build solidarity with migrants, refugees, and asylum-seekers around the world.
Rev. Wayne Dziekan was ordained a Catholic Priest for the Diocese of Gaylord on June 11, 1994.  He has since served as Pastor in several parishes in the Diocese.  Gradually he became interested in the plight of migrant workers and in Latin American culture. He has traveled through and lived short-term in various areas of Latin America including co-leading Border Immersion Experiences at the U.S./Mexico Border along with Gladys Muñoz; traveling through rural Guatemala; studying Spanish in Cochabamba, Bolivia; serving as temporary Pastor in a large jungle parish in Eastern Bolivia; and often travels to the Diocese of Gaylord's Sister Diocese of Matagalpa, Nicaragua.  As the Diocese's Director of the Secretariat for Justice and Peace, Fr. Wayne works with the migrant/immigrant community in emergency circumstances and teaches Catholic Social Doctrine (CSD), having received a Certificate in CSD from the Vatican's Centessimus Annus Pro-Pontifice.
Dziekan also serves as President of the Board for the Justice and Peace Advocacy Center (JPAC), a small local 501-(c)3 non-profit that works on a one-to-one basis with the local migrant and immigrant community.  JPAC strives to meet the emergency, social and integration needs of these populations, and to help raise awareness among the general public through educational opportunities, immersion trips and local events that help bring home the realities and challenges facing the Hispanic/Latino and immigrant populations in Northern Michigan.
---

The Art Of: _ is a series of programs that help connect the visual arts to broader topics in our busy lives, from coffee to education, technology, and even death and dying. Programs have included films, panel discussions, hands-on art, and food and drink tastings. Have an idea for a program? Contact Jason Dake at jdake@nmc.edu to pitch it.
Stay tuned. More events coming soon!

The Art of:_ is sponsored in part by Morsels of Traverse City.
---
The Dennos Museum Center presents several films during the year. Programs feature FREE screenings of Independent Lens films and other sources. These films are generally shown captioned and a sign language interpreter is available by calling (231) 995-1029. See schedule here.
DRAW NoMI is a collaborative arts event focused on bringing people together to make art.  Join us for events in October and throughout the year! Just look for the logo! DRAW NoMI is supported by the Linda O'Meara Fund for Arts Education. See schedule here.
International Affairs Forum's seven-lecture season brings top foreign policy experts to Traverse City to speak on pressing global issues. Join us by becoming a member or by purchasing tickets at the door. Held on most third Thursdays of the month, October-June. See schedule here.