build community. spark conversation. inspire change.
The Dennos Museum Center presents a variety of programs for all ages, seeking to engage, enlighten and entertain audiences. Check out the listings here to find out what's happening.
---

The Art Of: _ is a series of programs that help connect the visual arts to broader topics in our busy lives, from coffee to education, technology, and even death and dying. Programs have included films, panel discussions, hands-on art, and food and drink tastings. Have an idea for a program? Contact Jason Dake at jdake@nmc.edu to pitch it.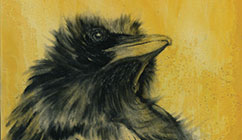 The Art of: The Quotidian with Special Guest Karen Bondarchuk
Postponed until further notice.
Join artist Karen Bondarchuk for an in-depth look at her exhibition, Ergo Sum: A Crow a Day, on exhibit through May 24.  In 2014, the artist set out to mark the passing time that her mother – diagnosed with dementia in 2010 – no longer could. For 365 days, she produced a crow a day on a hand-cut, hand-gessoed panel, remembering her mother as she once was and grieving her loss. The resulting work explores communication and an artist's relationship to the world; it resonates for its depth, beauty, and potent whimsy.
Canadian artist Karen Bondarchuk received her MFA in sculpture from The Ohio State University in Columbus and her BFA in sculpture and video art from the Nova Scotia College of Art and Design in Halifax. She is a professor at Western Michigan University's Gwen Frostic School of Art.  
This program is included with general admission to the museum, and will comprise a presentation by the artist, discussion, and refreshments. No registration required, but please call 231.995.1055 to let us know how many people will be in your group.

The Art of:_ is sponsored in part by Morsels of Traverse City.
---
The Dennos Museum Center presents several films during the year. Programs feature FREE screenings of Independent Lens films and other sources. These films are generally shown captioned and a sign language interpreter is available by calling (231) 995-1029. See schedule here.
DRAW NoMI is a collaborative arts event focused on bringing people together to make art.  Join us for events in October and throughout the year! Just look for the logo! DRAW NoMI is supported by the Linda O'Meara Fund for Arts Education. See schedule here.
International Affairs Forum's (IAF) seven-lecture season brings top foreign policy experts to Traverse City to speak on pressing global issues. Join us by becoming a member or by purchasing tickets at the door. Held on most third Thursdays of the month, October-June. See schedule here.