Build Community. Spark Conversation. Inspire Change.
The Dennos Museum Center presents a variety of programs for all ages, seeking to engage, enlighten and entertain audiences. Check out the listings here to find out what's happening.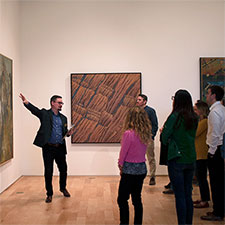 Tuesday Tours @ 10AM
Every Second & Fourth Tuesday of the Month, June-August
All Ages Welcome
Included with Admission
Join Dennos volunteer docents for a special guided tour of the museum. Your guide will lead you through the galleries for an informative and interactive experience, including discussion, looking exercises, and more.
Admission to the museum is $6 for adults, $4 for children 17 and under, and free for Dennos members, NMC students and faculty, and children ages 0-3.
---

The Art Of: _ is a series of programs that help connect the visual arts to broader topics in our busy lives, from coffee to education, technology, and even death and dying. Programs have included films, panel discussions, hands-on art, and food and drink tastings. Have an idea for a program? Contact Jason Dake at jdake@nmc.edu to pitch it.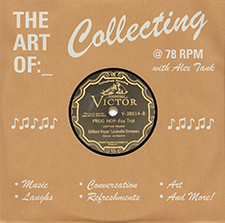 Thursday, June 13, 2019 – 6:00pm
The Art of: Collecting @ 78 RPM with Alex Tank
General admission rates apply ($6/adult; free for Dennos members and NMC students & faculty)
What are the origins of the 3-minute pop song? It's all about space - the available space on one side of a record! Vinyl is definitely making a comeback, but 78 RPM records are where the craze started. Join local collector Alex Tank and Dennos staff for a look at 78 RPM records, including the time period, the music, and the sleeve art. We'll even make a few pit stops in the gallery to look at artworks that have a connection to early 20th century music and culture. Refreshments served. Limited to 30 people. Reserve your spot by calling 231.995.1055.

The Art of:_ is sponsored in part by Morsels of Traverse City.
---
The Dennos Museum Center presents several films during the year. Programs feature FREE screenings of Independent Lens films and other sources. These films are generally shown captioned and a sign language interpreter is available by calling (231) 995-1029. See schedule here.
DRAW NoMI is a collaborative arts event focused on bringing people together to make art.  Join us for events in October and throughout the year! Just look for the logo! DRAW NoMI is supported by the Linda O'Meara Fund for Arts Education. See schedule here.
International Affairs Forum's seven-lecture season brings top foreign policy experts to Traverse City to speak on pressing global issues. Join us by becoming a member or by purchasing tickets at the door. Held on most third Thursdays of the month, October-June. See schedule here.