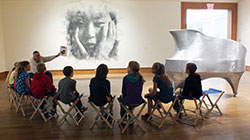 Tours and performances are a wonderful way to highlight a specific subject, celebrate the beginning or end of a unit and expose students to the arts.  More »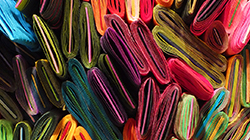 Temporary exhibitions and permanent collection displays change regularly. Find out what is currently on exhibition at the museum.  More »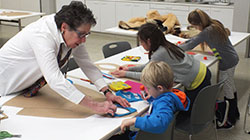 Information on scholarships, curriculum connections and lesson plans is available for educators here.  More »
Education Programs at the Dennos
The Dennos offers guided tours for grades Pre-K through 12, as well as for scouts, college classes, and adult groups. A guided tour with a volunteer docent is a great way to engage your students or members in making relevant and meaningful connections to their lives and classroom studies. Trained docents encourage creativity, collaborative discussion, and critical thinking while participants share stories about the artwork and artifacts they experience. More>>

Educational performances are an exciting way to introduce your students to world culture, music, theater, and dance. Programs vary, but generally include short performances followed by discussion of the genre of music or culture of the performers. Performances take place in Milliken Auditorium, a wheel-chair accessible venue welcoming all ages. More>>

Additional programs and special events are continually being added to the calendar, including opportunities to meet contemporary artists and explore hands-on art making. Call the Education Department at (231) 995-1029 to find out more. Scholarships are available here.
News & Events