Educational Performances
The Dennos Museum Center offers educational performance experiences that align with your curriculum. Educational performances generally include short performances, interactive sections with singing, clapping, or other activities, and discussion of the genre of music or culture of the performers. Programs are approximately 60 minutes in length. All attendees are welcome to visit the Museum galleries to view exhibits before or after the performance, with proper chaperone guidance. Docent-guided tours are not available on performance days.
"I was so impressed that our 1st and 2nd graders were riveted! They loved seeing the dancers move together in different ways."

 

"We brought back so much to the classroom for discussions and further learning experiences."
Scheduling
Beginning August 26, call (231)995-1029 or email jdake@nmc.edu to make your reservations. Payment is required to secure your reservation.
Cost
The fee for educational performances is $6 per seat, including students, teachers, and chaperones. Payment by cash, check, or credit card is required to secure your reservation. Groups that pay at least three weeks before the date of the performance will receive a discounted rate of $5 per seat. Pricing is based on the number of seats reserved. Refunds are not available for unused seats. Scholarships may be available if you are unable to cover the costs of your visit.
2019-2020 Educational Performances
Reservations begin August 26.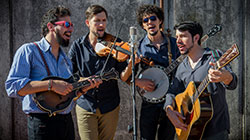 Che Apalache
Friday, November 15, 2019
10:00am
Connections: Latin America, folk music, Spanish language
Che Apalache is a four-man string band based in Buenos Aires with members from Argentina, Mexico and the United States. Combining instrumental prowess with tight vocal harmonies, they have created an authentic blend of genres to reflect the nature of their lives. Evoking images from Appalachia to the Andes, their debut album, "Latingrass," is a testament to a powerful cultural and musical exchange.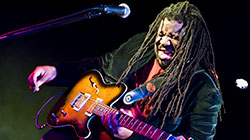 Khalif Wailin' Walter
Friday, February 21, 2020
9:30am
Connections: African American history, blues, music history
Khalif Wailin' Walter presents a performance lecture on Urban Electric Blues and its relationship to African American History.This interactive program features music from old slave hymns to Robert Johnson, Jimi Hendrix, AC/DC, and modern day hip-hop. The program emphasizes the cultural significance of the blues, the proliferation of blues throughout the US, the different regional Blues accents, and how deeply the Blues is infused in modern hip-hop culture and rock music. This is NOT a sit-down and listen lecture, so great ready to clap and sing along!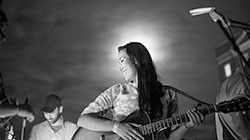 Nive and the Deer Children
Friday, March 6, 2020
9:30am
Connections: Inuit language and culture, pop music, storytelling
If you got a team of the greatest children's book writers in the world together, they couldn't invent Greenlandic folk pop singer Nive Nielsen. The first concert Nive ever played was for the queen of Denmark on national television. She has acted in movies and television, including The New World (2005) and The Terror (2018) respectively. And she is Inuit — well, Inuk — an indigenous Greenlander. Experience contemporary folk-pop music while learning about life in the Arctic.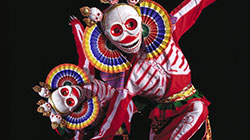 Mystical Arts of Tibet
Friday, April 17, 2020
10:00am
Connections: Tibetan history, world culture, music and dance
Robed in magnificent costumes and playing traditional Tibetan instruments, the Loseling monks perform ancient temple music and dance. The tour is produced by Drepung Loseling Monastery in Atlanta, and is endorsed by His Holiness the Dalai Lama. During their residency, the monks will also create and demolish a mandala sand painting in the museum's Sculpture Court. Their tours aim to make a contribution to world peace and healing through sacred art; to generate a greater awareness of the endangered Tibetan civilization; and to raise support for the Tibetan refugee community in India.
Sign up for the Dennos Educator E-News to stay up to date on educational programs.