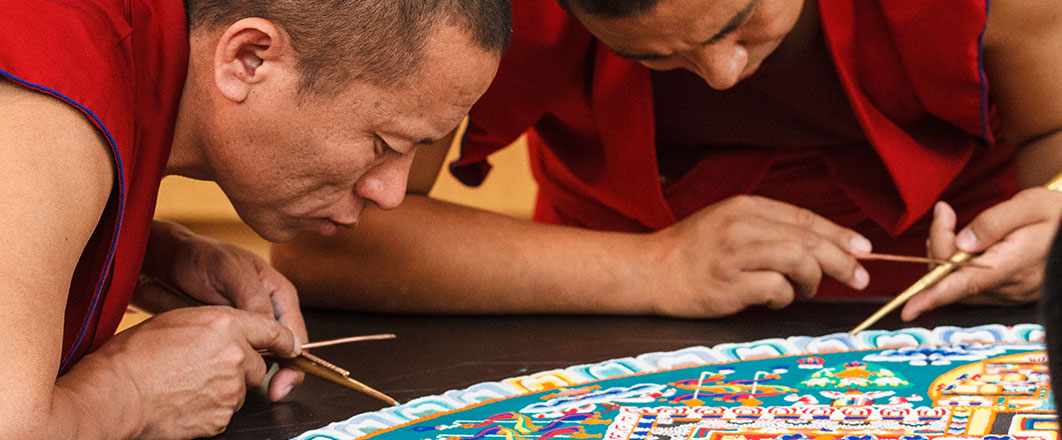 Virtual Residency with Mystical Arts of Tibet
The Dennos Museum Center at Northwestern Michigan College will present a virtual residency with Mystical Arts of Tibet featuring the Tibetan Monks from the Drepung Loseling Monastery, October 12 – 16, 2020. The residency will include a live stream of their famous mandala sand painting, a discussion with a monk and NMC representatives about the benefits of meditation, and a live streamed meditation session with a monk. All of these programs are offered free of charge to anyone wishing to attend, and will be available online.
For those that purchased tickets to last spring's evening performance and are still waiting for refunds from Brown Paper Tickets, you will have to email Brown Paper Tickets at refunds@brownpapertickets.com with your confirmation number to receive your refund. The Dennos did request refunds for all ticket buyers when the event was officially canceled. If you have any additional questions, please call the museum at 231-995-1055. 
This engagement is supported by the Arts Midwest Touring Fund, a program of Arts Midwest that is funded by the National Endowment for the Arts, with additional contributions from Michigan Council for Arts and Cultural Affairs and the Crane Group.
Additional support generously provided by Art Bridges.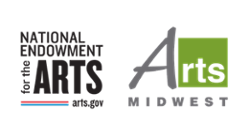 Live Streamed Mandala Sand Painting
October 12 — 16, 2020, approximately 10:00 a.m. — 6:00 p.m. EST
Opening Ceremony on Monday, October 12, 2020 at Noon EST
Closing Ceremony on Friday, October 16, 2020 at 2:00 p.m. EST
Link: https://livestream.com/accounts/7116288/events/9337860
Mandala is a Sanskrit word meaning sacred cosmogram. These cosmograms can be created in various media, such as watercolor on canvas, wood carvings, and so forth. However, the most spectacular and enduringly popular are those made from colored sand. From all the artistic traditions of Tantric Buddhism, that of painting with colored sand ranks as one of the most unique and exquisite. In Tibetan, the art is called dul-tson-kyil-khor, which literally means "mandala of colored powders." As with the sand painting tradition as a whole, mandalas have their roots in the Tantric legacy of Buddhist India, extending back some 2,500 years.
PANEL DISCUSSION: Meditation for Well-being & Resilience
Wednesday, October 14, 2020 - 10:30 a.m. EST
Please join us for a discussion to explore how meditation can contribute to greater well-being and resilience. Today our society is increasingly under stress, whether from the COVID-19 pandemic, political divisiveness, or from the increasing awareness of social injustice.
Meditation is an important technique for quieting the mind and establishing an inner basis of clarity and well-being. It allows us to relax from within the core of our spirit, and better understand the processes that make up our life. Some meditative techniques aim at strengthening inner qualities that are important life forces; others aim at eliminating inner negativities and habitual patterns.
This program will include an introductory chant from the Drepung Loseling Monks from Mystical Arts of Tibet, followed by a brief presentation by Geshe Ngawang Phende. In addition, there will be a discussion with Geshe Ngawang and three panelists from Northwestern Michigan College: Leila Hilal, Executive Director of International Affairs Forum; Kristy McDonald, Director of the Experiential Learning Institute and certified yoga and meditation instructor; and Jason Dake, Curator of Education at the Dennos Museum Center.
Geshe Ngawang Phende was born in Nepal in 1968. As a young boy he entered Drubthob Rinpoche's monastery in Nepal where he received his initial monastic training. He joined Drepung Loseling Monastery, south India in 1982 at the age of 12, where he successfully completed his monastic education and passed the Geshe Lharampa examination in 2001. Twice he has been on the Mystical Arts of Tibet tour and at present is one of the resident teachers at Drepung Loseling Monastery in Atlanta.
Zoom Details
Please click the link below to join the webinar:
https://nmc.zoom.us/j/95655678047
Or iPhone one-tap :
US: +13126266799,,95655678047# or +16465588656,,95655678047#
Or Telephone:
Dial(for higher quality, dial a number based on your current location):
US: +1 312 626 6799 or +1 646 558 8656 or +1 301 715 8592 or +1 346 248 7799 or +1 669 900 6833 or +1 253 215 8782
Webinar ID: 956 5567 8047
International numbers available: https://nmc.zoom.us/u/asJnycpi9
Meditation Session with Mystical Arts of Tibet
Friday, October 16, 2020 - 10:30 a.m. EST
Take a moment to reflect and relieve stress by tuning into the Dennos Museum Center's Facebook page for a live-streamed meditation session with Mystical Arts of Tibet. This is part of a weeklong virtual residency with the Drepung Loseling Monks of Mystical Arts of Tibet, October 12-16.
Zoom Details
Please click the link below to join the webinar:
https://nmc.zoom.us/j/95632990042
Or iPhone one-tap :
US: +16465588656,,95632990042# or +13017158592,,95632990042#
Or Telephone:
Dial(for higher quality, dial a number based on your current location):
US: +1 646 558 8656 or +1 301 715 8592 or +1 312 626 6799 or +1 669 900 6833 or +1 253 215 8782 or +1 346 248 7799
Webinar ID: 956 3299 0042
International numbers available: https://nmc.zoom.us/u/adb23dpixi