DRAW NoMI: Making Art Together
DRAW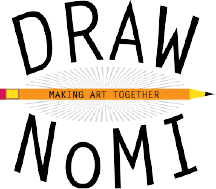 NoMI is a collaborative event that brings together arts organizations from all over Northern Michigan. During this time of staying home and being together only virtually, DRAW NoMI's partners are all working hard to connect you and your family with the arts on social media and the web. Make sure to check the list below to learn how you can support them today.
DRAW NoMI is supported by the Linda O'Meara Fund for Arts Education.
Find The Dennos on Facebook here. Support your local art museum here.
 
Trick-or-Treat-or-Draw with Brianne Farley & Em Randall
Instagram Takeover Follow us @dennosmuseumcenter
Wednesday, October 28th — 12:00 p.m.
Wild Faces: How to Draw Emotions
Friday, October 30th — 12:00 p.m.
Outdoor Adventures in Patterns, Colors, & Textures
Saturday, October 31st — 12:00 p.m.
Monster Day: We Need Your Help Drawing the Creepiest Monster Ever
Join Brianne Farley and Em Randall as they take over the Dennos Museum Center Instagram account for live, interactive drawing sessions. Topics will include outdoor adventures, emotional expressions, and of course, MONSTERS! These all-ages sessions will also allow you to ask questions directly of two of our favorite local illustrators. And there will be prizes, so get out your pencil and paper, and draw along!
As part of DRAW NoMI, this program is supported by the Linda O'Meara Fund for Arts Education.
Brianne Farley is an author and illustrator of picture books. Her debut, Ike's Incredible Ink, was awarded the Marion Vannett Ridgway Book Award Honor for debut authors and was selected for the Society of Illustrators Original Art Show. She also illustrates the picture book series Charlotte the Scientist is Squished by Camille Andros, which was a Portland Best Book, a Pennsylvania Young Reader's Choice Award, and was on the LITA Notable List. Find more at briannefarley.com.
Em Randall is a painter, illustrator, and designer who works from a constantly messy desk in Northern Michigan. Inspired by whimsical nostalgia and magical verity, her work often features strong women in a combination of both authentic and impossible realities. Find more at emrandall.com.
Support provided by