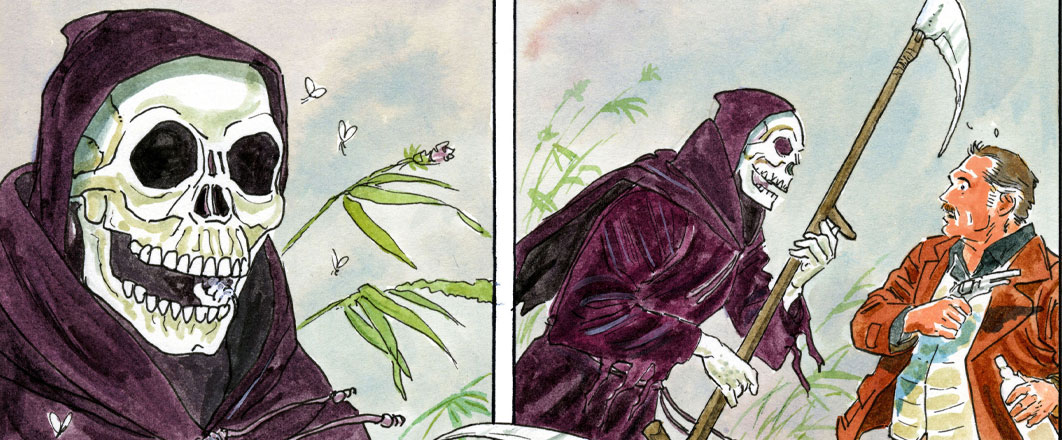 HEMINGWAY IN comics
February 3 — May 26, 2024
The exhibition Hemingway in Comics provides a unique and entertaining lens for considering one of America's most influential authors through themes that explore his origin story as well as his legendary iconic personas, both fact and fiction. In several appearances across multiple languages, Hemingway is often portrayed as the hypermasculine legend: bearded, boozed up, and ready to throw a punch. But just as often, comic book writers see past the bravado to the person, grappling with his own demons. Hemingway's role in these comics ranges from the divine to the ridiculous, as his image is recorded, distorted, lampooned, and whittled down to its core.

Exhibition curator Robert K. Elder notes that comic book creators and Hemingway share a natural kinship. The comic book page demands an economy of words, much like Hemingway's less-is-more "iceberg theory," only in graphic form. In addition, he turned out to be the perfect avatar for comic book artists wanting to tell history-rich stories, as he experienced beautiful places during the most chaotic times: Paris in the 1920s, Spain during the Spanish Civil War, Cuba on the brink of revolution, France during World War II just after liberation. Elder's research into Hemingway's comic presence demonstrates the truly international reach of Hemingway as a pop culture icon.
Hemingway in Comics presents a new, more complicated way to look at Hemingway: a man, an artist, and a character that has taken on a life of its own and allows visitors to consider why Hemingway's image, in particular, is so enduring. However, this exhibition is not only for the dedicated Hemingway fan, it will appeal to all those with an appreciation for comics, pop culture, and the absurd.
Learn more at www.eusa.org/exhibition/hemingway-in-comics
Image: Luca Pozza, Production art for Laguna Hemingway pages 58 – 59, 2020; Felt tip pen, watercolor, and ecoline on patinated 350-grain ivory cardboard, 13 x 19 inches (image); Courtesy of Robert K. Elder. Detail.