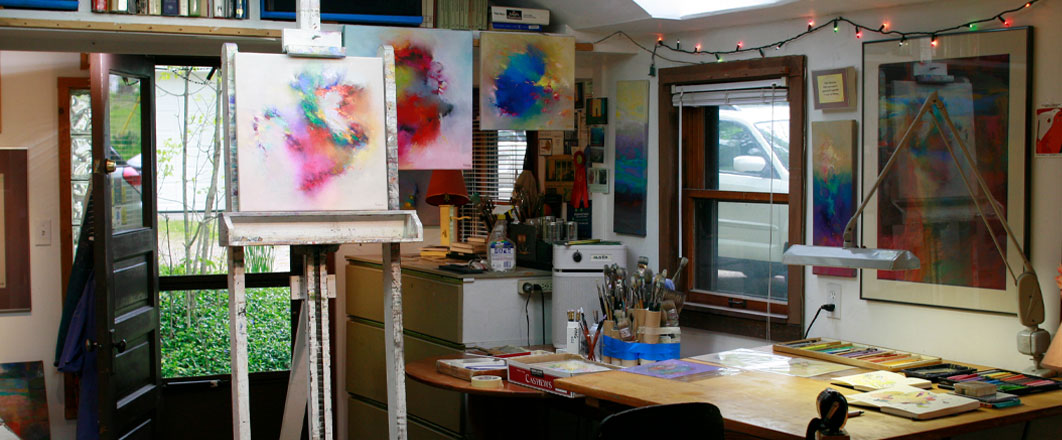 Passages: The Art of Ron Gianola
September 15, 2023 — January 7, 2024
Gianola's paintings are the result of a fifty-plus year long experience with the Art Spirit, pursuing the possibilities of a personal transformative vision, engaging emotion, expression, and the poetry of visual music.
ABOUT THE ARTIST
Ron Gianola was born in Detroit in 1950, studied Industrial Design and Fine Arts at Detroit's premier magnet Cass Technical High School and the Art School of the Detroit Society of Arts and Crafts, later known as Center for Creative Studies, and worked throughout Michigan as an artist and designer.
From the Detroit culture of rock, soul, and jazz music, hot rods, and custom concept cars Gianola found a way into the rich culture of the time and place to explore the creative, personal, humanist side of  life, mind, and spirit. Painting called as a mythic vocation embodying the essential mystery and spiritual beauty of nature and the human psyche.
Rather than depict the specific, he works in a more personal manner using a harmony of forms from observed, created, and remembered sources. Gianola paints with enough content that the mind and imagination are pleased and with enough literal image that the eye is also satisfied.
Trying to attain something you can't just "paint" on, exploring the structural qualities of oil paint, higher in concept, using a patient, considered, quality execution, attaining a flickering oil surface, every square inch breathing, potent with the energy of life, Gianola's technique embodies the freedom of abstraction with the care and considered execution of classical realism.
Gianola's long series of color composition paintings are also based on his long time listening to, and playing, jazz and instrumental improvisational music. Involving harmony, dissonance, rhythm, calm, tension, and balance, they use improvisation over an intended or discovered structure.
To find out more and view current work, illustrated bio, videos, or to shop, please visit rongianola.com.