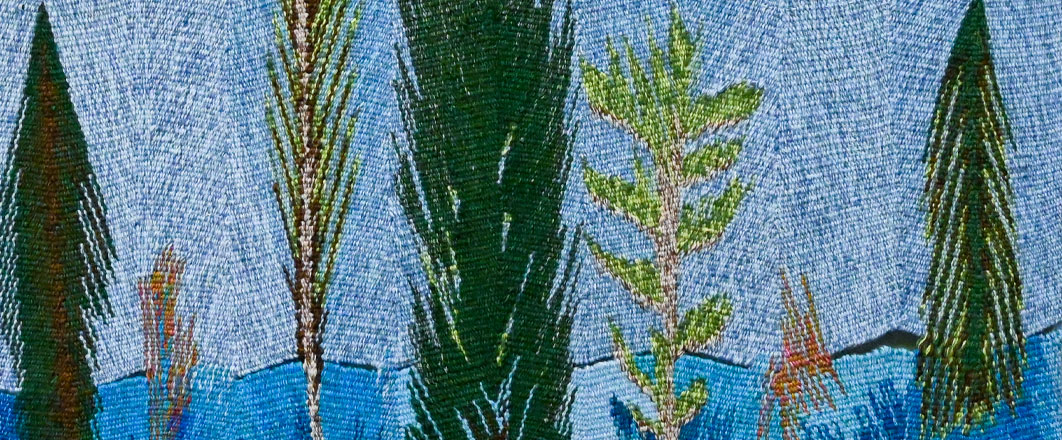 NOrthland Weavers & Fiber Artists Guild
October 20, 2023 — March 3, 2024
In September of 1973, Terry Tarnow and Martha Fox, sharing a mutual interest in weaving, decided to organize a weaver's guild. The purpose of the guild was to gather together those working in fiber arts such as weaving, spinning, macrame and dyeing.
The mission of the guild was to meet monthly and share skills, teach fiber techniques and sponsor workshops. In the 90's the guild changed its name to Northland Weavers and Fiber Arts Guild. This allows anyone working with fiber such as knitting, basketry and quilting to feel welcome in the guild. Each year the guild tries to bring in instructors from around the country to teach workshops. The guild is a member of the Michigan League of Handweavers and the Handweavers Guild of America.
The exhibition at the Dennos Museum Center will feature work of past and current members.
The guild meets the third Thursday of the month usually at the Traverse City Senior Center. Anyone interested in the guild can sign up for our newsletter at northlandweaversfuild.com.
opening reception
Thursday, October 19th
5:00 - 7:00 PM
The public is invited to an opening reception in the Milliken Lobby to view the work on display and meet with members of the guild. No RSVP required. Light food and drinks will be available.