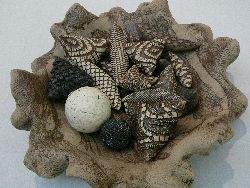 Kelly Jean Ohl - Ceramics - Lanesboro, Minnesota
As a visual artist Kelly Jean Ohl is intrigued by how our other senses affect our experience of visual art. To Kelly texture is a great way to invite the viewer to use their other senses in experiencing her work, not only to look but to touch and explore the work in a way they are often not encouraged to. Once you pick up one of her rattles you may be surprised that not only does it have unique tactile quality but it also makes sounds.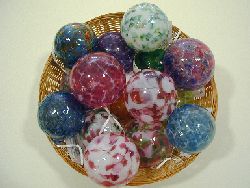 Gail Leone - Blown Glass - Cedar, Michigan
Gail Leone began her love of glass by working with stained glass windows. In 1983 she had an opportunity to try her hand at hot glass. The moment she dipped into that molten glass she was hooked for life. Over the years many styles and types of glass blowing have come become part of her art, but ornaments are her passion. Something about this little orb that holds so much color, life and wanting to touch it calls to her.  Each year Gail tries to come up with new designs and color schemes for her ornaments. Gail expects that glass will be part of her life forever.