Loudon Wainwright III
this event has been rescheduled for 
thursday, september 3, 2020 — 7:00 p.m.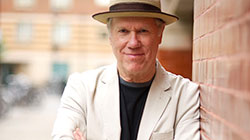 Loudon Wainwright III's long and illustrious career is highlighted by more than two dozen album releases, Movie and TV credits, and now his new autobiography, Liner Notes (2017 Penguin/Random House). In 2010 he won a Grammy for Best Traditional Folk Album for High Wide & Handsome. His 2012 recording, Older Than My Old Man Now was named one of NPR's Top 10 Albums of the Year. His 27th career album to-date, Years In The Making, is a retrospective double CD with more than 40 tracks – live performances, demos, outtakes, unreleased songs spanning 50 years. His songs have been recorded by Bonnie Raitt, Johnny Cash, Earl Scruggs, Kate & Anna McGarrigle, Rufus Wainwright, and Mose Allison, among others.
At this time, our staff is working remotely per NMC policy, but know that we are doing all that we can during this unprecedented time. If you need to contact staff please email our Audience Engagement Manager, Chelsie Niemi, at cniemi@nmc.edu. 

If you have already purchased a ticket, then it has been recorded in our new ticketing service, Brown Paper Tickets. They have also been updated with the rescheduled date. If you purchased your seats through MyNorth Tickets last fall, then your tickets will be available the night of the show at Will Call only. 
Next year, we will not accept MyNorth tickets at the door.
If you cannot make it to our rescheduled date, please email Chelsie Niemi at cniemi@nmc.edu to request a refund.