Mystical Arts of Tibet
Friday, April 17, 2020 — 8:00 pm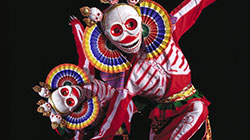 Robed in magnificent costumes and playing traditional Tibetan instruments, the Loseling monks perform ancient temple music and dance. The tour is produced by Drepung Loseling Monastery in Atlanta, and is endorsed by His Holiness the Dalai Lama. During their residency, the monks will also create and demolish a mandala sand painting in the museum's Sculpture Court. Their tours aim to make a contribution to world peace and healing through sacred art; to generate a greater awareness of the endangered Tibetan civilization; and to raise support for the Tibetan refugee community in India.
This engagement is supported by the Arts Midwest Touring Fund, a program of Arts Midwest that is funded by the National Endowment for the Arts, with additional contributions from the Michigan Council for Arts & Cultural Affairs and the Crane Group.
Tickets are $25 for members, $30 advanced, and $32 at the door (fees included in price). You can purchase tickets during museum business hours in person or by calling 231-995-1055, calling Brown Paper Tickets at 1-800-838-3006, or online here.