Mystical Arts of Tibet
this event has been postponed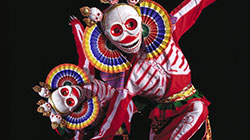 Robed in magnificent costumes and playing traditional Tibetan instruments, the Loseling monks perform ancient temple music and dance. The tour is produced by Drepung Loseling Monastery in Atlanta, and is endorsed by His Holiness the Dalai Lama. During their residency, the monks will also create and demolish a mandala sand painting in the museum's Sculpture Court. Their tours aim to make a contribution to world peace and healing through sacred art; to generate a greater awareness of the endangered Tibetan civilization; and to raise support for the Tibetan refugee community in India.
This engagement is supported by the Arts Midwest Touring Fund, a program of Arts Midwest that is funded by the National Endowment for the Arts, with additional contributions from the Michigan Council for Arts & Cultural Affairs and the Crane Group.
The Dennos Museum Concert Series has been postponed until further notice. Our staff is working with performers to look at rescheduling these events. Details should be available in the coming weeks. At this time, our staff is working remotely per NMC policy, but know that we are doing all that we can during this unprecedented time. If you need to contact staff please email our Audience Engagement Manager, Chelsie Niemi, at cniemi@nmc.edu. Ticket buyers, we appreciate your support of the Dennos Concert Series and ask for your patience as we determine whether we can reschedule these events. If our shows must be canceled, details for refunds will follow.