Bob James Trio
may 4, 2019 — 8:00 pm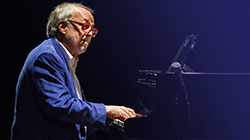 We welcome the return of Bob James to Milliken with the Traverse City debut of his newest album, Espresso, featuring drummer Ron Otis and bassist Michael Palazzolo. These talented musicians performing with Bob were, in part, the inspiration for the Espresso project. Concert goers are always in for a treat when Bob sits down at his 9-foot Hamburg Steinway that has occupied the hall for nearly two decades. Do not miss what is sure to be a spectacular end to the 2018- 2019 concert season with one of the great jazz pianists of our time.
Members Only Package: Buy two or more tickets to three or more shows at once and receive an additional 10% off when you call the museum at 231.995.1055.
Tickets are $30 for members, $35 advanced, and $40 at the door by calling the museum at 231.995.1055, MyNorth Tickets at 800.836.0717, or online here.