Aguankó
april 5, 2019 — 8:00 pm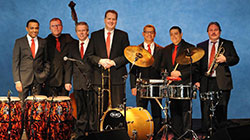 Aguankó, the ensemble led by percussionist and composer Alberto Nacíf, is a talented group of Michigan-based musicians who are steeped in the tradition of jazz infused Son-Salsa. In La Bicileta and Chiquita, for example, you might hear shades of Conjunto Libre or Eddie Palmieri's La Perfecta Orchestra. And, like the Fort Apache Band, there are Afro-Cuban folkloric rhythms, as in the percussive Rumba Elemental. Their latest album, Elemental, is graced with a driving funk and sabor that comes only from years of developing a musical sensibility that speaks from both the heart and soul of the band members.
Members Only Package: Buy two or more tickets to three or more shows at once and receive an additional 10% off when you call the museum at 231.995.1055.
Tickets are $24 for members, $27 advanced, and $30 at the door by calling the museum at 231.995.1055, MyNorth Tickets 800.836.0717, or online here.