The Golden Dragon Acrobats
march 5, 2019 — 8:00 PM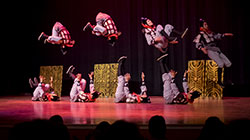 Back again by popular demand to the Milliken Auditorium, The Golden Dragon Acrobats represent the best of a time honored Chinese tradition that began more than two thousand years ago. Direct from Hebei, China, the Golden Dragon Acrobats have thrilled audiences all over the world performing in over 65 countries and all 50 states since 1978. Its members are athletes, actors and artists who have studied and trained for their craft since early childhood. Their amazing artistry, beautiful costumes and props provide a visual feast for the entire family to enjoy.

Members Only Package: Buy two or more tickets to three or more shows at once and receive an additional 10% off when you call the museum at 231.995.1055.
Tickets are $24 for members, $27 advanced, and $30 at the door by calling the museum at 231.995.1055, MyNorth Tickets at 800.836.0717, and online here. 
This presentation is supported by the Arts Midwest Touring Fund, a program of Arts Midwest that is funded by the National Endowment for the Arts, with additional contributions from the Michigan Council for Arts and Cultural Affairs and the Crane Group.